Olympic security

London holds massive Olympic security drill

Published 27 February 2012

Last week, in preparation for the London 2012 Olympic Games, more than 2,500 government officials, local police, and emergency responders participated in a two-day long emergency drill that simulated a terrorist attack on the city's transportation network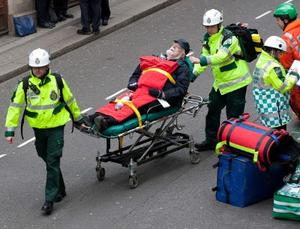 First responders exercise during two-day London security drill // Source: thejournal.ie
Last week, in preparation for the London 2012 Olympic Games, more than 2,500 government officials, local police, and emergency responders participated in a two-day long emergency drill that simulated a terrorist attack on the city's transportation network.
Last Wednesday emergency responders descended upon the abandoned Aldwych station, which was the scene of a mock terrorist attack. Roughly 2,500 officials participated in the drill including Home Secretary Theresa May and other senior government ministers.
The drill was designed to emulate 8 and 9 August, two particularly busy days of the Olympics, and was planned to help agencies including the Olympic organizers, Scotland Yard, and transportation officials, that normally do not work together, improve their ability to coordinate response efforts.
Drawing on lessons from the 7 July terrorist attacks, when suicide bombers killed more than fifty people in a wave of coordinated attacks on London's subway and bus systems, Howard Collins, the London Underground's chief operating officer, told the Daily Mail, the most recent drill included many changes as a result of the attacks.
"We have certainly picked up a number of recommendations, for example the response for our vehicles are now escorted under blue light conditions to get through London quickly," Collins said. "There are a number of other exercises ranging from first aid equipment and how we work together."
Collins added that the drill also gave security officials to test and prepare for several key challenges in responding to a terrorist attack.
"Obviously there is the initial response, communications and making sure we have one route for all communication and ensuring that the rest of the underground system knows what is happening," he said. "The most important thing for us, if at all possible, under the guidance of our own transport providers and the police, is to keep moving at all times. London needs to be kept moving, particularly during the Games."