Fire regulations

N.Y. senator pushes to streamline industrial fire regulations

Published 28 February 2012

Last week Senator Charles Schumer (D – New York) urged the Environmental Protection Agency (EPA) to make it easier for first responders to contain industrial fires at chemical facilities by streamlining the agency's reporting process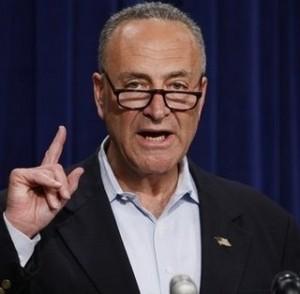 Sen. Charles Schumer (D-NY) calls for streamlined agency reporting // Source: gothamist.com
Last week Senator Charles Schumer (D – New York) urged the Environmental Protection Agency (EPA) to make it easier for first responders to contain industrial fires at chemical facilities by streamlining the agency's reporting process.
Following several fires at industrial sites that firefighters struggled to contain last year in western New York, Senator Schumer is pushing the EPA to clarify its complex regulations.
Under current law all businesses and facilities that handle volatile chemicals must provide the EPA and local emergency responders with updated information about the types and quantities of hazardous materials they have on site, however existing procedures are complex and unclear.
As evidence, Schumer pointed to last July's fire at Niagara Lubricants. Firefighters, lacking all the information they needed about the potentially hazardous materials in the building, spent seventeen hours battling the fire with water and foam. Firefighters say they received limited and conflicting information about the burning chemicals which complicated the response.
Last summer, in addition to the fire at Niagara Lubricants, large conflagrations broke out at the Goldman Titanium, Salerno Paint & Paper, and Stollberg Inc. facilities.
In a release, Schumer stated that these "fires in Western New York have shed light on the fact that first responders often don't have accurate information about the types, quantities and locations of hazardous materials that these businesses have on site, which puts the safety of the firefighters, the business, its workers, and local residents at serious risk."
"Our brave first responders put their lives on the line each day while responding to emergency situations and fires, and we must make sure that they have every tool in the chest to ensure their own safety, and the safety of Western New York residents and workers," Schumer added.
The senator emphasized that regulations must be improved as industrial facilities, especially in western New York, are often located near residential neighborhoods where families can be affected by the fires and the noxious plumes of smoke they release.
Schumer hopes the EPA will create a more straightforward reporting process that would allow businesses to more accurately document where they house their dangerous chemicals. Doing so will allow first responders to prepare equipment and strategies ahead of time to more effectively contain any industrial fires at these sites.