Border security

CBP receives Lockheed Martin P-3 Orion ahead of schedule

The P-3 Orion is considered the standard for maritime patrol and reconnaissance, and is used for homeland security, hurricane reconnaissance, anti-piracy operations, humanitarian relief, search and rescue, intelligence gathering, antisubmarine warfare and, recently, to assist in air traffic control and natural disaster relief support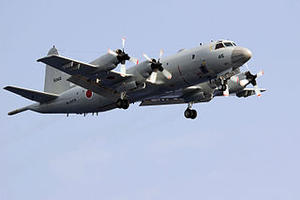 Lockheed Martin's P-3 Orion // Source: wikipedia.org
Lockheed Martin says it has the other day delivered the fifth P-3 Orion with new Mid-Life Upgrade (MLU) modifications to U.S. Customs and Border Protection (CBP) – and that it did so more than fifty days ahead of schedule here today.
"Our Greenville team continues to demonstrate its level of excellence in complex work associated with maintenance, repair and overhaul," said Ray Burick, Lockheed Martin vice president for P-3 Programs and Greenville Operations. "The Lockheed Martin Greenville team has now delivered five aircraft in the past 23 months – a truly remarkable accomplishment for this team and our CBP customer."
The company says that the MLU replaces all fatigue life-limiting structures with enhanced-design components and incorporates a new metal alloy that is five times more corrosion resistant than the original material, thus reducing the cost of ownership for P-3 operators. The MLU solution removes current aircraft flight restrictions and extends the structural service life of the P-3 up to 15,000 hours, adding more than 20 years of operational use.
"This accomplishment would not be possible without the mission success focus of our CBP government partner, which has demonstrated significant contributions to support homeland security and drug interdiction missions," Burick said. "We are very proud of the work we have accomplished today. Our Performance Based Logistics program with CBP is driving operational cost down and mission success up."
The P-3 Orion is considered the standard for maritime patrol and reconnaissance, and is used for homeland security, hurricane reconnaissance, anti-piracy operations, humanitarian relief, search and rescue, intelligence gathering, antisubmarine warfare and, recently, to assist in air traffic control and natural disaster relief support.