NYPD helicopters

A third Bell 412 helicopter delivered to NYPD for counterterrorism missions

The NYPD dedicated many hours to designing the specifications of the department's third Bell 412 to meet the diverse needs of the police department; one of the counterterrorism additions to the Bell 412 is a radiation detection system that can identify radiation signatures from an altitude of 200 feet in an effort to protect the city from nuclear bomb threats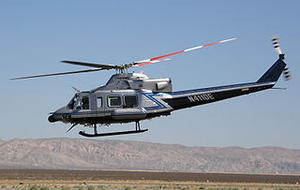 Prepped for counterterror, Bell delivers third aircraft to NYPD // Source: wikipedia.org
Bell Helicopter, a Textron Inc. company, said today (Tuesday) that it delivered a Bell 412 helicopter to the New York Police Department. The NYPD currently has three Bell 412s in service for a variety of missions ranging from search and rescue at sea to gathering intelligence and more recently, combating terrorism. "The mission has changed rapidly. Now aviation is being used more as a force multiplier for patrol, gathering intelligence, counter-terrorism and the detective bureau," remarked Captain James Coan of the NYPD Commanding Office. "We have a 64 year relationship with Bell Helicopter and we are very happy with them," added Capt. Coan.
The NYPD began using the Bell 412 for air-sea rescues and has now expanded their use to include counterterrorism and other law enforcement missions. The company says that the NYPD dedicated many hours to tailoring the specifications of the department's third Bell 412 to meet the diverse needs of the largest police department in the United States. One of the counterterrorism additions to the Bell 412 is a radiation detection system that can identify radiation signatures from an altitude of 200 feet in an effort to protect the city from nuclear bomb threats.
"The NYPD is one of the most recognized police aviation units in the world. They are a symbol of America and we are very proud they choose Bell helicopters for their heroic missions," said Danny Maldonado, executive vice president of sales and marketing at Bell Helicopter. "We give our most sincere thanks to the NYPD for selecting Bell Helicopter to be a part of their future," Maldonado added.
Bell Helicopter notes it has been a part of the NYPD since 1948 when it delivered a Bell 47, the first Bell helicopter to be used as part of an airborne law enforcement team.
The company also notes that the Bell 412 has been ranked #1 in Professional Pilot magazine for eighteen consecutive years as well as #1 in Aviation International News for six consecutive years.