Border security

Underground spies to secure Indo-Pakistan border

With the discovery of a 400-foot long tunnel at the India-Pakistan Border, the IndianHome Ministry has decided to acquire Unattended Ground Sensors (UGS) that could be installed along the international border with Pakistan as an important line of defense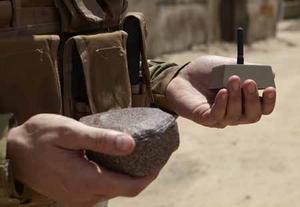 The size of a UGS makes it unnoticeable to intruders // Source: tindachieu.com
With the discovery of a 400-foot long tunnel at the India-Pakistan Border, the IndianHome Ministry has decided to acquire Unattended Ground Sensors (UGS) that could be installed along the international border with Pakistan as an important line of defense.
The Daily Mail reports that the UGS can detect any movement above or under the ground and send an alert in real time to the control room. On 9 August the Border Security Force (BSF) issued an expression of interest for procuring UGS.
The United Stateshas used these devices extensively to slow infiltration on the Mexican-American border as well as planted UGS in Afghanistan in order to detect anyone moving towards troops and report the locations back to American control rooms. They devices havealso been used by Israel.
The UGS are wireless and would help bolsterthe fencing that separates Pakistan and Bangladesh in order to stop infiltration. The technology is expensive, but highly effective as each UGS can monitor can area of at least three kilometers and can last on one battery for almost two years after being buried.
The underground spies detect movement by man or machine through its magnetic, seismic,and infrared sensors and can even take a photo of a possible intruder and send it to the control room. With electro-optic and infrared imaging capability, UGS provide high quality photos day or night. The sensor can also endure adverse weather and temperatures from -10 degrees Celsius to 55 degrees Celsius.
The Mail notes that the Indian Home ministry officials say the UGS could have detected the tunnel that was unearthed in the Samba sector of Jammu last month which has been allegedly dug from the Pakistan side 110 meters into India's territory.
A preliminary report submitted by the BSF, to the home ministry said that the tunnel was three feet wide and five feet high, which means that intruders spent their time building the tunnel as they could literally walk through it. The tunnel's origin seems to be in a forested area, evidenced by the oxygen pipes found on the roof of the tunnel.
BSF director general U.K.Bansal visited the spot and has told the home ministry that thirtylocations on the Indo-Pak border in Jammu frontier have been identified which need a close watch in wake of the discovery of the tunnel. Sources in the army, meanwhile, blame the BSF for lack of surveillance and ineffective patrolling that led to such a huge tunnel being dug up.
It is also unclear who exactly was using the tunnel and whether it was being used for terrorist activity or for people wanting to move from one country to the next.
With the UGS planted, it will be almost impossible for infiltrators to get past the border using underground tunnels.