Infrastructure protection

Inflatable giant plugs could have saved NYC subway system

Published 7 November 2012

Inflatable plugs being developed with funding from DHS, could have saved some of New York's subway and highway tunnels from flooding during Hurricane Sandy, according to the developers of the plugs; DHS successfully tested a plug earlier this year, using a 16-foot diameter prototype to hold back pressurized water at a test tunnel in Morgantown, West Virginia; the idea was originally intended to protect tunnels from terrorist attacks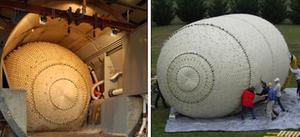 Inflatable tunnel plugs during development // Source: ukopia.com
Inflatable plugs being developed with funding from DHS, could have saved some of New York's subway and highway tunnels from flooding during Hurricane Sandy, according to the developers of the plugs.
CNN reports that DHS successfully tested a plug earlier this year, using a 16-foot diameter prototype to hold back pressurized water at a test tunnel in Morgantown, West Virginia. The idea was originally intended to protect tunnels from terrorist attacks.
Project managers have said that only one plug has been manufactured, and they are still two years away from marketing the plug to transit authorities around the country.
"If we would have had these things installed in the right places (in New York), they could have made a terrific difference," Greg Halter of the Pacific Northwest National Laboratory told CNN. "The problem is we don't have a stock of things that we could put in place. It's not like we have a bunch of these sitting in a warehouse. It's a little frustrating really that we weren't at a better stage at this thing."
The idea was developed by Ever Barbero, a West Virginia University professor. He said of thought of the plug when he saw a news report that New York City would be closing the Holland Tunnel in preparation of the storm.
When he heard reports that tunnels had flooded, Barbero told CNN, "The first thing that came to us is maybe we have work cut out for the next 20 years. I think now everybody will say, 'I should have plugged this tunnel.'"
DHS project manager John Fortune is excited about the project but knows there is still work to be done.
"This is an experimental prototype. This is something that is probably two years away or so from real-world applications," Fortune toldCNN. "It would be like asking Apple, 'Why can't I have an iPhone 6 now?' Because it's somewhere in the lab now. It's not ready to go."
A scaled-down plug, built with only a single layer, worked at preventing smoke or gas penetration, but when the team decided to use a stronger single-layer plug during an inflation test, the fabric failed.
The current design consists of three layers, with the outer layer consisting of thick webbing made of Vectran.
The plug inflates like a balloon and can reduce flooding and leakage to small amounts. Those involved with the project said that plugs could have prevented flooding in some tunnels in the East River, but that they would not have kept water from getting into underground subway stations and other infrastructure.
DHS started the Resilient Tunnel Project, which the aim of protecting transit tunnels from the threat of a terrorist gas attack and fire; developers of the plug say they always knew the project could also serve as a method for protecting tunnels from floods during hurricanes and severe rainstorms.
The plugs can be inflated in less than five minutes, can be pressurized with air or water, and must be made to fit individual tunnels.
"When you look at these things, you get the idea of a kid's balloon," Halter told CNN, but "they are not at all stretchable. They are specifically made to fit a tunnel of a specific dimension. They are tailor made. Their ability to expand or contract is less than 1 percent."
Team members say the plugs are cheaper than flood gates. The developers spent $400,000 on the prototype, but the price tag could go down if the plugs are manufactured in large quantities.
Developers of the plug say that the disaster Hurricane Sandy created in New York will boost the interest in the plug. "While we don't want to ride the back of a disaster, it's certainly our hope that people will look at this technology," Holter told CNN. "This may be the worst storm ever recorded in the last 100 years, but that's no reason that we won't have another storm that will cause as much damage."