Asteroid harvesting

Exploring asteroids for commercial metal harvesting

Published 24 January 2013

Deep Space says that in a decade, it will be harvesting asteroids for metals and other building materials, to construct large communications platforms to replace communications satellites, and later solar power stations to beam carbon-free energy to consumers on Earth. "More than 900 new asteroids that pass near Earth are discovered every year. They can be like the Iron Range of Minnesota was for the Detroit car industry last century," says the company's CEO.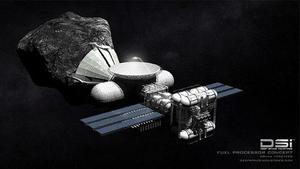 Rendering of asteroid-mining spacecraft // Source: gmw.cn
Deep Space Industries the other day announced that it will send a fleet of asteroid-prospecting spacecraft out into the solar system to hunt for resources to accelerate space development for the benefit of Earth. These "FireFly" spacecraft use low-cost cubesat components and get discounted delivery to space by ride-sharing on the launch of larger communications satellites.
"This is the first commercial campaign to explore the small asteroids that pass by Earth," said Deep Space chairman Rick Tumlinson. "Using low cost technologies, and combining the legacy of our space program with the innovation of today's young high tech geniuses, we will do things that would have been impossible just a few years ago."
The company says that FireFlies mass about 55 lbs. and will first be launched in 2015 on journeys of two to six months.
Deep Space says it will be building a small fleet of the spacecraft using innovative miniature technologies, and working with NASA and other companies and groups to identify targets of opportunity.
"My smartphone has more computing power than they had on the Apollo moon missions," said Tumlinson. "We can make amazing machines smaller, cheaper, and faster than ever before. Imagine a production line of FireFlies, cocked and loaded and ready to fly out to examine any object that gets near the Earth."
Starting in 2016, Deep Space will begin launching 70-lb DragonFlies for round-trip visits that bring back samples. The DragonFly expeditions will take two to four years, depending on the target, and will return 60 to 150 lbs. Deep Space believes that combining science, prospecting, and sponsorship will be a win-win for everyone, both lowering costs for exploration and enabling the public to join the adventure.
"The public will participate in FireFly and DragonFly missions via live feeds from Mission Control, online courses in asteroid mining sponsored by corporate marketers, and other innovative ways to open the doors wide," said CEO David Gump. "The Google Lunar X Prize, Unilever, and Red Bull each are spending tens of millions of dollars on space sponsorships, so the opportunity to sponsor a FireFly expedition into deep space will be enticing."
DSI notes that bringing back asteroid materials is only a step on the way to much bigger things for the company. The company has a patent-pending technology called the MicroGravity Foundry to transform raw asteroid material into complex metal parts. The MicroGravity Foundry is a 3D printer that uses lasers to draw patterns