DHS

DHS employee calling for mass killing of White people still on DHS payroll

Published 21 November 2013

Ayo Kimathi, a black-nationalist who works as a procurement officer for the Immigration and Customs Enforcement(ICE), is calling for "ethnic cleansing" of "black-skinned Uncle Tom race traitors," and says that "in order for Black people to survive the 21st century, we are going to have to kill a lot of whites — more than our Christian hearts can possibly count." He was placed on administrative leave three months ago, but still receives his DHS paycheck. "DHS should be tracking Kimathi, not employing him," Josh Glasstetter of the Southern Poverty Law Center (SPLC) says. "This isn't a mundane human resources matter or a tricky First Amendment question. DHS should have investigated and fired Kimathi months, or even years, ago."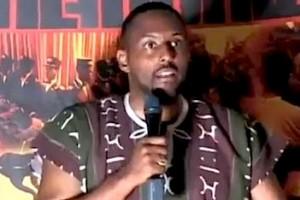 Ayo Kimathi, suspended procurement officer at DHS // Source: isidewith.com
Department of Homeland Security deputy press secretary Gillian Christensen has confirmed that DHS has not terminated Ayo Kimathi, a black-nationalist who works as a procurement officer for the Immigration and Customs Enforcement (ICE).
Kimathi was placed on administrative leave four months ago after it came to light that he was operating a Web site which calls for the mass murder of whites. DHS has condemned Kimathi's political views and said his employment is under review.
The Southern Poverty Law Center (SPLC) first exposed Kimathi's racist rants in August, leading to a media firestorm and later to an administrative leave from his duties at ICE.
Kimathi uses his Web site, and his online name "the Irritated Genie," to call for "ethnic cleansing" of "black-skinned Uncle Tom race traitors." According to the Web site, "in order for Black people to survive the 21st century, we are going to have to kill a lot of whites — more than our Christian hearts can possibly count."
Kimathi has been a DHS employee since 2009 with a salary of $115,731 in 2012.. Government Executive reported in September that DHS received complaints about Kimathi two years ago. Alongtime DHS employee, who spoke on condition of anonymity, told GovExecthat numerous employees had filed complaints with ICE and Customs and Border Protection's (CBP) Joint Intake Center concerning the racially confrontational activism of Kimathi.
Christensen told GovExec that "ICE does not comment on the existence or outcome of reports made to the Joint Intake Center unless the resolution results in some kind of criminal or other public administrative action. Generally, this is because the information reported and/or obtained through investigation may be law enforcement-sensitive or contain personal information protected by the Privacy Act."
SPLC reported that a former supervisor of Kimathi claimed that "everybody in the office is afraid of him," and worried that he would "come in with a gun someday and go postal."
Kimathi's case is being compared to the case of Aaron Alexis, a civilian contractor who killed twelve people and injured eight others in a shooting rampage at the Washington Navy Yard in September. "DHS should be tracking Kimathi, not employing him," Josh Glasstetter of the SPLC told the National Journal. "This isn't a mundane human resources matter or a tricky First Amendment question. DHS should have investigated and fired Kimathi months, or even years, ago," Glasstetter added.
Kimathi insists that his Web site, War is on the Horizon, is just an entertainment site that sells concerts and lecture videos.