Superbugs

Pennsylvania superbug infection could mean "the end of the road" for antibiotics: Researchers

Researchers have, for the first time, found a person in the United States carrying a bacteria resistant to antibiotics of last resort. Top U.S. public health officials say this is alarming, and could mean "the end of the road" for antibiotics. Researchers say that the discovery "heralds the emergence of a truly pan-drug resistant bacteria."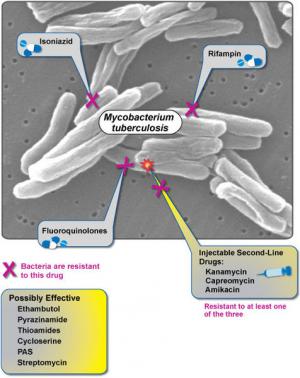 Antibiotic resistant bacteria present major threat // Source: commons.wikimedia.org
Researchers have, for the first time, found a person in the United States carrying a bacteria resistant to antibiotics of last resort. Top U.S. public health officials say this is alarming, and could mean "the end of the road" for antibiotics.
The antibiotic-resistant strain was found last month in the urine of a 49-year-old Pennsylvania woman. Researchers at the Department of Defense concluded that her infection involved a strain of E. coli resistant to the antibiotic colistin, according to a study published Thursday in Antimicrobial Agents and Chemotherapy, a publication of the American Society for Microbiology. The authors wrote that the discovery "heralds the emergence of a truly pan-drug resistant bacteria."
The Washington Post notes that Colistin is the antibiotic of last resort for especially dangerous types of superbugs, including a family of bacteria known as CRE, which health officials have dubbed "nightmare bacteria." These superbugs can kill up to 50 percent of patients who become infected. The Centers for Disease Control and Prevention (CDC) has described CRE as among the U.S. most urgent public health threats.
Medical experts say that this is the first time this colistin-resistant strain has been found in a person in the United States. Last November researchers reported finding the colistin-resistant strain in pigs, raw pork meat, and in a few people in China. A small number of people in Europe were also found to be infected with the strain.
"It basically shows us that the end of the road isn't very far away for antibiotics — that we may be in a situation where we have patients in our intensive-care units, or patients getting urinary tract infections for which we do not have antibiotics," CDC director Tom Frieden in an interview Thursday.
"I've been there for TB patients. I've cared for patients for whom there are no drugs left. It is a feeling of such horror and helplessness," Frieden added. "This is not where we need to be."
Scientists, public health officials, and international health organizations have been warning for a while that if the resistant bacteria continue to spread, it could seriously restrict medical treatment options, as routine operations could become deadly, minor infections could become life-threatening, and pneumonia could be more and more difficult to treat.
Colistin, which doctors have been using more and more as a last-line defense against antibiotic-resistant bacteria, is a problematic drug. It was developed more than fifty years ago, and patients using it run the risk of serious damage to their kidneys. As the medical profession is running out of ammunition to combat a growing number of antibiotic-resistant infection, doctors have been left with no choice except prescribing colistin.
The colistin-resistant E. coli found in the Pennsylvania woman is especially insidious: The E coli strain became infected with plasmid, a small piece of DNA which carries a gene for antibiotic resistance. The plasmids can replicate themselves and transfer the genes they carry to other bugs within the same family, but they can also jump to other families of bacteria, thus making the other bacteria antibiotic-resistant as well.