Disasters

Floods along the Mississippi raise questions about levee system

The preventative measures taken to control the surging Mississippi River has protected some communities, but at the cost of destroying businesses, homes, and hundreds of thousands of acres of farmland causing environmental groups to reconsider the current approach to flood protection; the existing system is based on a massive series of levees, spillways, release valves, and drainage basins, but as the recent floods have shown, this system saves property at the cost of inundating thousands of acres of farmland; some environmental groups are urging the federal government to consider a shift in policy that would allow the river to run more freely by relocating communities away from the river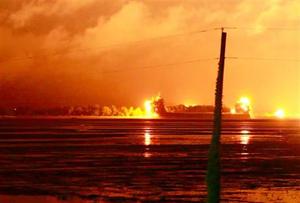 Explosions to control-breach a Mississippi levee // Source: parispi.net
The preventative measures taken to control the surging Mississippi River has protected some communities, but at the cost of destroying businesses, homes, and hundreds of thousands of acres of farmland causing environmental groups to reconsider the current approach to flood protection.
The existing system is based on a massive series of levees, spillways, release valves, and drainage basins, but as the recent floods have shown, this system saves property at the cost of inundating thousands of acres of farmland. Some environmental groups are urging the federal government to consider a shift in policy that would allow the river to run more freely by relocating communities away from the river.
Larry Larson, the executive director of the Association of State Floodplain Managers, said, "We need some retreat from our rivers."
He added, "They need to re-evaluate the entire system."
His remarks come after this year's historic floods have pushed the flood control system to its limits.
According to Nicholas Pinter, a geology professor at Southern Illinois University, the current levee system, built and maintained by the Army Corps of Engineers, has made some channels of the Mississippi, Ohio, and Missouri Rivers as narrow as one third of their original width.
"The Mississippi, Missouri and Ohio Rivers are largely man-made constructs," Pinter said.
The narrower river channels means that water will flow faster and higher when it hits farmlands, communities, or spillways designed to handle the river's overflow. In addition, because the water flows faster it will cause more damage to land and structures.
But the Army Corps of Engineers disagrees.
Gene Pawlik, a spokesman for the Corps, said, the flood control system "is functioning as designed and has greatly reduced risk" during flooding.
Despite these claims, environmental groups insist that the system must be re-evaluated.
John Kostyack, with the National Wildlife Federation, said. "Our over-reliance on levees is not going to get us through these crises year after year."
Instead, Kostyack said the river must have "room to run" and the National Wildlife Federation is urging the government to not repair the levee that it blew up in Missouri earlier this month to save small communities upriver like Cairo, Illinois.
The controlled breach flooded 130,000 acres of farmland, and not repairing the levee would leave the entire area a floodplain with limited use.
Naturally, farmers are uneasy about the prospect of permanently losing their land.
"Some of those farms have been in the same family for a century," said Blake Hurst, the President of the Missouri Farm Bureau. "People have worked their whole lives to improve this ground."
Representative Jo Ann Emerson (R – Missouri) blasted the suggestion in a column in USA Today. She argues that letting the river run naturally is "a high ideal for environmentalists who live in safer places," but it is "an unthinkable violation of property rights and liberty for Americans who have lived beside the river for more than a century."
This year's floods were caused by unusually severe rain storms in the upper Midwest and were exacerbated by farming practices that have raised the rivers levels by not letting water seep into the ground.
"We thought those [floods] were extremely rare events, and we've seen three or four in 15 years," Larson said.
Rather than building flood walls higher and higher, and risk breaches year after year, conservationists recommend buying frequently flooded farmland and moving houses and communities away from flood zones.
Andrew Fahlund, senior vice president of American Rivers, a conservation group, explained, "It means acquiring those lands that are necessary to protect our communities and perhaps saving on having to spend more and more money on taller and taller walls."