UAV update

Flying ambulance: UAV will extract wounded soldiers from the battlefield

There is one more mission being added to the ever-expanding list of operational, intelligence, surveillance, law-enforcement, first response, and disaster recovery missions assigned to UAVs: evacuating critically injured casualties directly from the battlefield to the hospital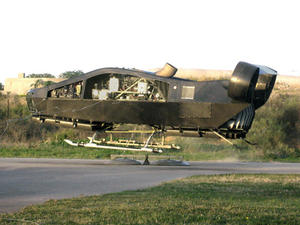 AirMule UAV during testing // Source: hightech-edge.com
UAVs are being used for an ever-expanding list of operational, intelligence, surveillance, law-enforcement, first response, and disaster recovery missions. The list continues to expand. The Israel Defense Forces (IDF) medical corps is looking at procuring an innovative UAV for the purpose of evacuating critically injured casualties directly from the battlefield to the hospital. This would get more wounded soldiers to the hospital within what physicians call the "golden hour" — the critical time in which a medical evacuation has the best chance of saving a wounded soldier's life, or substantially reducing the long-term consequences of the injury.
We wrote about the AirMule a few weeks ago ("Israeli Ducted-Fan Sky-Jeep in Flight Trials," 13 January 2010 HSNW). Now David Eshel writes in Aviation Week to offer more details. that one of the candidates for the program is the AirMule, a vertical takeoff and landing UAV developed by Urban Aeronautics Ltd., an Israeli company specializing in Fancraft technology (we have been following this innovative company for a while now; see these two early stories: "Rotor-less Helicopter Holds Promise for Rescue Missions," 26 July 2006 HSNW; and "Bell Helicopters Takes a Look at an Israeli Flying Rescue Vehicle," 2 February 2007, HSNW). Other aircraft being considered include helicopters converted to unmanned vehicles.
Lt. Col. Gil Hirschorn, a doctor and former flight medic who leads the medical corps' trauma branch, told Eshel that an important benefit of AirMule is its ability to land in areas of a fire-saturated battlefield which would be inaccessible to other vehicles. Hirschorn says the UAV, which is now being tested, will be equipped with stretchers, air conditioning, and a communications system that establishes video contact between injured soldiers and the medical center.
The wounded will be transported in a protected compartment and monitored throughout the flight. The current design holds two wounded soldiers lying prone. Future versions will include space for a medic. "The vehicle would add an important capability to the logistics of casualty evacuation, and be able to support amphibious operations as well as ground forces," Eshel writes.
AirMule is a ducted-fan vehicle that uses Urban Aeronautics' patented Fancraft lift system, based on internal rotors that provide lift and propulsion systems. The core of the technology is the Vane Control System (VCS), which consists of a cascade of vanes at the inlet and outlet ducts that can be deflected simultaneously (top and bottom) or differentially to generate