Disasters

Haiti's quake damage yields better building codes

Published 22 February 2011

In the aftermath of the 7.0 magnitude earthquake that shook Haiti last year and killed more than 300,000 people, University of Arizona researchers descended upon the country's capital to study buildings that survived the quake; researchers documented damaged buildings to develop a sophisticated three dimensional model; they are working to develop stricter building codes to ensure that buildings can withstand earthquakes in the future; their focus is on designing low-cost easy to implement localized solutions; buildings that were not built to withstand earthquakes were the primary cause of death in the disaster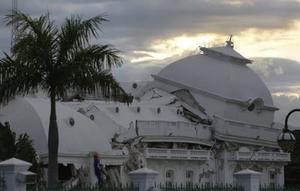 Haiti's presidential palace // Source: al.com
In the aftermath of the 7.0 magnitude earthquake that shook Haiti last year and killed more than 300,000 people, University of Arizona researchers descended upon the country's capital to study buildings that survived the quake.
Robert Fleischman, an associate professor of Civil Engineering at the University of Arizona, along with his team of researchers analyzed buildings that remained standing to better understand how to design seismically safe structures for the future. "We documented the damage, the location, severity, and type, and then pretending like we'd never seen it, we created computer models of the buildings," Fleischman said.
Fleischman's computer model differ from prior damage models in that it uses three-dimensional structure models to see how the simulations match up against real buildings and the damage they sustained.
The team plans to use this model to develop seismic construction guidelines for future building projects in Haiti.
Ensuring that Haiti's future building codes can withstand earthquakes is far more complex than simply importing stricter building codes from the United States. Fleischman explains that the guidelines have to be customized to Haiti's needs, resources, and capabilities.
"You need a solution that's low-cost and foolproof," he said. "You want to train to build human capital, to train with proper techniques so they can do things themselves. But even if there's better education and knowledge, there's no money and a lack of appropriate resources."
According to Karl Telleen, a member of Fleischman's team, building solutions have "to be specific to that place and local materials with respect to their local building traditions."
"The tricky part there is not just to make it safe, but to make it something people will enjoy living in and learn to replicate themselves," he said.
The researchers are working with the University of Arizona's student chapter of Engineers without Borders to develop low-cost local solutions.
One proposed idea is to combine local soil with cement to manufacture bricks. This technique is inexpensive and readily available as it could create construction material from the damaged debris itself.
Given Haiti's dire circumstances with 70 percent of its people impoverished and half without access to clean water, Fleischman's goals are modest.
"We're not trying to have a well-performing building like a hospital (in the United States). We're just trying to keep huge slabs of concrete from coming down and killing people," he says.
Buildings that were not built to withstand earthquakes were the primary cause of death in the disaster.