Water

Heavy snows divert Colorado River water shortage, for now

This winter, heavy snowfall in Utah, Colorado, and Wyoming have helped to avert a water crisis along the Colorado River; after an eleven year drought in the region, residents have begun to worry about impending water shortages; the Colorado River supplies nearly thirty million people in seven states with drinking water as well as Mexico; the heavy snows could bring only a brief moment of respite; with demand exceeding supplies and with each year bringing less water, there is potential for a future disaster; if supplies continue to decline, water deliveries will be reduced when Lake Mead's water level drops below 1,075 feet; as of 1 February, Lake Mead's water level was at 1,091feet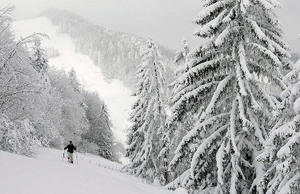 A respite from an eleven year drought // Source: newsfirst5.com
This winter, heavy snowfall in Utah, Colorado, and Wyoming have helped to avert a water crisis along the Colorado River.
After an eleven year drought in the region, residents have begun to worry about impending water shortages.
The Colorado River supplies nearly thirty million people in seven states with drinking water as well as Mexico. The River also irrigates more than three million acres of crops and pasture. The area's two principle storage reservoirs, Lake Powell in southern Utah and Lake Mead near Las Vegas, have been running dangerously low due to rising demand and a decrease in supplies.
According to Malcolm Wilson, the water resources chief of the U.S. Bureau of Reclamation, this year a good snow pack has eased concerns over water shortages.
"It is highly, highly unlikely that we'll see a shortage declared for the lower basin. It is a good year. It's one of the better ones we've seen certainly in the last decade, and we're looking to a really good inflow," he said.
Water levels at Lake Powell and Lake Mead are expected to rise, but future water shortages may not have been diverted.
Professor Dan McCool at the University of Utah says that the heavy snows could only bring a brief moment of respite.
"Nature is shooting at us with a machine gun. So, we may have dodged a bullet this year, but there will be many more bullets in the future," McCool said.
With demand exceeding supplies and with each year bringing less water, McCool warns of a future disaster.
"The projected demands far exceed the projected supply," he explained. Climate change is likely to reduce the Colorado River's water supplies even further and "then we have the makings of a disaster."
Tim Barnett and David Pierce of the Scripps Institution of Oceanography found in a 2009 study that "Global climate models almost unanimously project that human-induced climate change will reduce runoff in this region by 10 –30 percent."
If supplies continue to decline, the U.S Bureau of Reclamation will be forced to cut water deliveries when Lake Mead's water level drops below 1,075 feet.
As of 1 February, Lake Mead's water level was at 1,091 feet and spring runoff is expected to raise it to 1,105 feet.
When the water level falls below 1,075 feet, deliveries to lower basin states will be cut by 333,000 acre-feet each year.
The overwhelming majority of the cuts, 96 percent, will affect the parts of Arizona that receive water from the Central Arizona Project which includes Phoenix, Mesa, and Scottsdale, as well as twelve Indian tribes.
California's cities would remain unaffected and Nevada would see a 4 percent reduction.
Terrance Fulp, the regional director of the Bureau of Reclamation's Lower Colorado Region, says that these initial cuts are manageable. But, "if it goes past 1,025 feet and it looks like we're heading for 1,000 we'll sit down to renegotiate" how water is distributed to the states.