Hurricane Irene

Hurricane's damage estimated at $7 billion

One private estimate put damage along the coast at $7 billion, far from any record for a natural disaster; most attention was paid to the shore during Irene's slow ride up the East Coast, but it was inland — even hundreds of miles inland — that the storm's most serious devastation actually occurred and most of the damage was done by water, not wind; the death toll climbed to thirty-five people in ten states after a number of bodies were pulled from the floodwaters in the Northeast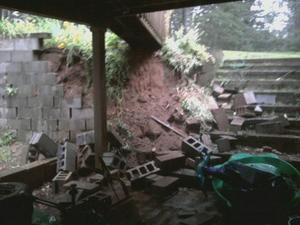 Damage from Irene's visit to Clifton Park, NY // Source: the518.org
Here is a brief summary of Hurricane Irene-related news, based on reports in the New York Times, Fox News, and the BBC:
Most eyes were watching the shore during Irene's slow ride up the East Coast, but it was inland — sometimes hundreds of miles inland — that the storm's most serious devastation actually occurred. It was the water, not the wind, that was the major culprit.
New England towns battled floods of historic proportions, utility crews struggled to restore power to five million people along the East Coast. The death toll climbed to thirty-five people in ten states after a number of bodies were pulled from the floodwaters in the Northeast.
The storm was weaker than had been feared, but it toppled trees and power lines and washed away roads and bridges — some of them well inland from the coastal areas that bore the brunt of Irene's winds.
Communities were cut off, roads washed out, and at least a dozen bridges lost, including at least three historic covered bridges.
In New York City, the U.S. largest mass transit system returned to life early Monday with bus service and all subways up and running by midday. Commuter rail service to Long Island and New Jersey was being partially restored, and trains from the city's northern suburbs were to reopen on a limited basis later Monday.
Utilities scrambled to restore power across the Eastern Seaboard with help from thousands of out-of-state repair crews, but it could be days before the lights are back on in some homes.
Irene smashed power poles, ripped transmission wires, and flooded electrical stations over the weekend, blacking out more than 7.4 million homes and businesses from South Carolina to Maine. Nearly five million power customers remained in the dark.
One private estimate put damage along the coast at $7 billion, far from any record for a natural disaster.