Immigration

Judge orders DHS to clarify whether Secure Communities is mandatory

On Monday, a New York judge ordered federal immigration officials to provide clarification on whether or not states and local law enforcement agencies had the ability to opt out of the controversial Secure Communities immigration enforcement program; the judge's ruling comes as part of a Freedom of Information Act lawsuit launched by several immigration and legal rights groups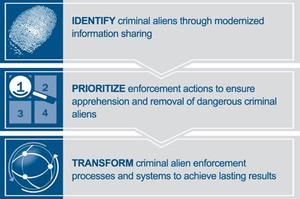 The Secure Communities protocol // Source: dhs.gov
On Monday, a New York judge ordered federal immigration officials to provide clarification on whether or not states and local law enforcement agencies had the ability to opt out of the controversial Secure Communities immigration enforcement program.
The judge's ruling comes as part of a Freedom of Information Act lawsuit launched by the National Day Laborer Organizing Network, the Center for Constitutional Rights, and the Cardozo Law School Immigration Justice Clinic. The groups launched their lawsuit against DHS, the Immigration and Customs Enforcement (ICE) agency, the FBI, and other immigration agencies in response to the continuing confusion over Secure Communities. Many local and state agencies have sought to opt out of the program – most recently Massachusetts, California, and New York – but federal immigration officials have been unclear on whether they have the authority to do so, often delivering conflicting messages.
In her ruling, Judge Shira A. Scheindlin found that "initially, federal government officials suggested that the program was voluntary, inthat statesor localities could choose not to participate." But in a contradictory move, in October 2010, DHS Secretary Janet Napolitano said that Secure Communities was not an optional program and that it would become mandatory by 2013.
Scheindlin's ruling comes after a previous December 2010 Freedom of Information request that resulted in the release of more than 14,000 internal documents. In the release, federal officials withheld or redacted critical portions of documents that would clarify the government's position on Secure Communities.
"It is apparent that many of the documents that defendants seek to withhold under the deliberative process privilege do not contain agency deliberations about what Secure Communities policies should be, but rather about what message should be delivered to the public about what Secure Communities policies are," Judge Scheindlin wrote. "Such 'messaging' is no more than an explanation of an existing policy, which is not protected by the deliberative process privilege."
The judge went on to say, "There is ample evidence that ICE and [Homeland Security] have gone out of their way to mislead the public about Secure Communities. In particular, these agencies have failed to acknowledge a shift in policy when it is patently obvious – from public documents and statements – that there has been one."
Under the Secure Communities program, a detained individual's fingerprints are automatically scanned and checked against DHS and FBI databases to determine if they have had any prior arrests as well as their immigration status.
The program has come under fire recently because critics charge that the majority of people deported under the program have never been convicted of a crime or only committed minor infractions.