Emergency communication

Law enforcement still unable to communicate ten years after 9/11

Published 7 September 2011

Ten years after the 9/11 attacks, emergency responders from varying agencies still lack the communications tools to effectively communicate with one another; during the chaos of the 9/11 attacks, emergency responders had difficulty communicating and the 9/11 Commission recommended that a nationwide broadband network be created for emergency responders, but ten years later, according to the Commission's ten year report card, this nationwide network "continues to languish"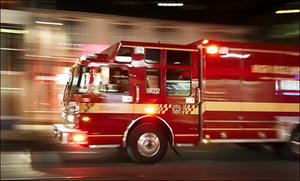 Ten years on, there is still no cross-agency communications // Source: logisig.com
Ten years after the 9/11 attacks, emergency responders from varying agencies still lack the communications tools to effectively communicate with one another.
During the chaos of the 9/11 attacks, emergency responders had difficulty communicating and the 9/11 Commission recommended that a nationwide broadband network be created for emergency responders, but ten years later, according to the Commission's ten year report card, this nationwide network "continues to languish." "Despite the lives at stake, the recommendation to improve radio interoperability for first responders has stalled because of a political fight over whether to allocate 10 MHz of radio spectrum … directly to public safety for a nationwide network, or auction it off to a commercial wireless bidder who would then be required to provide priority access on its network dedicated to public safety during emergencies," the report concluded.
Law enforcement agencies and first responders across the United States support creating this network, and in January, President Obama announced his support for allocating the radio space, dubbed the D-block spectrum, to emergency personnel.
All efforts to date have failed, despite strong support for a nationwide network. Bills are currently sitting in the House and the Senate that would set aside the D-block and create a communications network, but have yet to pass.
Large wireless carriers have also voiced their support for auctioning off the D-block to the wireless industry, which the government estimates would raise roughly $3.1 billion that could be used to help pay for the public safety communications network.
In 2008, the Federal Communications Commission tried to auction the D-block off, but its offer attracted no serious bidders.
In a report, the National Preparedness Group concluded that while statewide communications interoperability plans and the creation of a national emergency communications plan have made strides in communicating across different jurisdictions, more work remains. Ultimately, the group found that the best course of action would be to implement the 9/11 Commission's recommendation and create a nationwide communications network.