Llamas' antibodies to aid bioterror fight
Published 19 January 2010
A new system, which utilized antibodies found in llamas, detects seven types of botulinum neurotoxins simultaneously; the system uses antibodies from llamas; the llama antibodies, which are proteins made by the body to fight disease, are "nanobodies," sometimes called single domain antibodies, and are molecularly flexible, unlike traditional antibodies; the new method could lead to increased protection of food and water supplies against bioterror attacks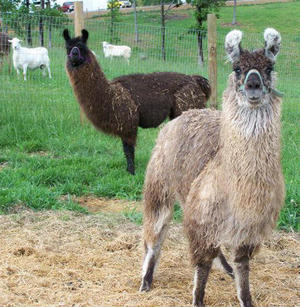 Baby llamas // Source: daydreamacres.net
A new technique for detecting the seven types of botulinum neurotoxins simultaneously could lead to increased protection of food and water supplies if such BoNTs are used for bioterrorism.
Scientists at the Southwest Foundation for Biomedical Research (SBFR) in San Antonio, Texas, developed the new system, which utilized antibodies found in llamas. BoNTs, which are roughly 100 billion times more toxic than cyanide, are the only toxins in the Category A list of the Centers for Disease Control and Prevention's (CDC) potential bioterror threats.
BioPrepWatch reports that the llama antibodies, which are proteins made by the body to fight disease, are "nanobodies," sometimes called single domain antibodies, and are molecularly flexible, unlike traditional antibodies. "As such, sdAb may allow biosensors to be regenerable and used over and over without loss of activity," Andrew Hayhurst, an SFBR virologist, said. "Also, for some types of BoNT, conventional antibodies are not generally available and we are filling this biosecurity gap."
"We not only aim to use the antibodies in BoNT detection tests, but also to understand how they bind and inhibit these fascinating molecules," Hayhurst said. "We are also striving to improve our test by making it more sensitive such that one day it may be able to detect much smaller amount of toxins found in patients' blood. Since BoNT also have therapeutic applications with carefully controlled preparations and dosing regimens, there is also an increasing need to monitor BoNT levels in these treatments."
Some sdAB have been shown to have inhibitory activity, blocking toxin function, which could lead to future anti-botulism treatments. The new technique was funded by the Defense Department's Defense Threat Reduction Agency Medical Diagnostics program.