The Los Angeles-Long Beach port complex uses a variety of means to detect WMD
The Los Angeles-Long Beach port complex uses the latest — together with the simplest — technology in trying to prevent weapons of mass destruction from being smuggled through the port; among these means used: a $3 million high-tech screening ship, a radiation-detecting helicopter and a badge-carrying black Labrador retriever that can sniff out chemical and biological weapons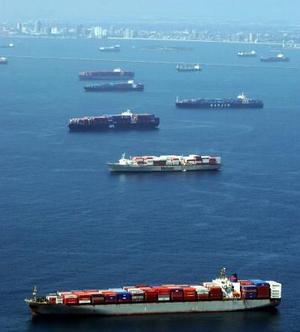 The busy Port of Los Angeles // Source: asset-cache.net
If you want to see some of the latest tactical tools aiming to prevent weapons of mass destruction from infiltrating a critical infrastructure, you should pay a visit to the Los Angeles-Long Beach port complex, where 40 percent of all U.S. imports enter the country. Government Technology's Russell Nichols writes that a description of what your are likely to find at the complex reads like a prop list for a high-budget futuristic action thriller: a $3 million high-tech screening ship, a radiation-detecting helicopter and a badge-carrying black Labrador retriever that can sniff out chemical and biological weapons.
The port complex is important: If an incident forced the port complex to be shut down, it would cost the U.S. economy about $1 billion a day, said Jack Ewell, who oversees the project for the L.A. Sheriff's Department. "That would flat-out cripple the economy if all of these agencies weren't working together to ensure the safety of that complex," he said. "We want to stop anything that may be illicit before it gets in the port."
Nichols quotes officials to say that with cutting-edge detection technology, the project has not only upgraded collaboration efforts among the various agencies, but it also will enhance port security at the busiest container port in the nation.
The 55-foot screening vessel, the Ocean Rescue II, can scan the hulls of ships entering the port complex, detect traces of weapons of mass destruction materials and transmit real-time data to land-based labs. The Eurocopter AS350B2 Helicopter's advanced radiation-detection pod, worth $220,000, allows authorities to screen ships from above, while the HAZMAT canine, named Johnny Ringo, is the only active dog in the world with a nose trained to track dangerous chemical and biological agents.