In the trenches

Manned troop supply helicopter converted to unmanned helicopter

Lockheed Martin, Kaman convert a manned to an unmanned helicopter; the single-seat heavy-lift helicopter will deliver sling loads up to 6,000 lb at sea level and 4,300 lb at 15,000 ft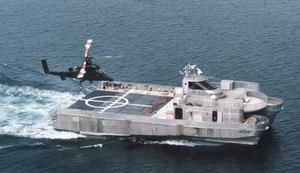 K-MAX performing under way // Source: humanpl.us
A K-MAX helicopter converted for unmanned operation by Lockheed Martin and Bloomfield, Connecticut-based Kaman has proven in tests that it can re-supply troops with cargo airdropped by parachute. Kaman originally designed the single-seat K-MAX heavy-lift helicopter to deliver sling loads up to 6,000 lb at sea level and 4,300 lb at 15,000 ft.
In late April, Kaman, in partnership with the U.S. Army's Natick Soldier Research, Development and Engineering Center (NSRDEC), conducted eleven cargo airdrop tests from 300 ft to 400 ft above ground level. Kaman used its four-hook carousel for the drops, and during one flight, demonstrated four airdrops in a single mission.
Kaman performed the airdrops using the army's low-altitude cross parachute. Currently used to airdrop supplies from manned aircraft in Afghanistan, the parachute is designed to handle 80 to 600 lb payloads delivered from 150 ft to 300 ft altitudes above ground level.
"These airdrop tests continue our progress to advance the Unmanned K-MAX helicopter as a battlefield cargo delivery system," said Terry Fogarty, general manager of Unmanned Aircraft Systems Product Group at Kaman Helicopters. "Airdropping cargo as an option to placing a sling load on the ground can enhance an unmanned aircraft's survivability while delivering supplies in combat environments."
Future tests may include the use of single and multiple Joint Precision Airdrop Systems (JPADS) from higher altitudes. JPADS could be used in higher threat environments to re-supply multiple and dispersed ground forces from one unmanned K-MAX release.