Maryland wants Florida's high speed rail funds
As Republican governors in Florida, Wisconsin, and Ohio reject federal funding for high speed rail projects, states like Maryland are clamoring to receive those funds; Maryland Senators Benjamin L. Cardin and Barbara A. Mikulski sent a letter to Transportation Secretary Ray LaHood requesting that $2.4 billion dollars in high speed rail funding originally designated for Florida be redirected to projects in the Northeast Corridor; each year 250 million rail passengers use the corridor and passenger use is projected to increase by 60 percent by 2030; the White House plans to spend $53 billion on high speed rail projects over the next six years and $8 billion in the coming fiscal year alone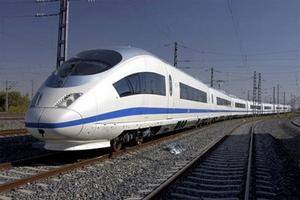 Maryland seeks more rail funds // Source: inteligentni.com
As Republican governors in Florida, Wisconsin, and Ohio reject federal funding for high speed rail projects, states like Maryland are clamoring to receive those funds.
On Monday 28 February 2011 both Maryland Senators Benjamin L. Cardin and Barbara A. Mikulski along with several members of the Congressional delegation sent a letter to Transportation Secretary Ray LaHood requesting that $2.4 billion dollars in high speed rail funding be redirected to projects in the Northeast Corridor.
In particular, the letter seeks to divert funds from Florida after the state's newly elected Republican Governor Rick Scott announced that he planned on refusing the $2.4 billion dollars allocated for high speed rail projects.
Senator Bill Nelson (D – Florida) is actively trying to keep the funds in the state and a rail authority in South Florida has volunteered to accept the funds and oversee the project on behalf of the state's government.
Following Governor Scott's announcement, Maryland Governor Martin O'Malley promptly wrote a letter to Transportation Secretary Ray LaHood requesting those funds.
Governor O'Malley argues in his letter that "As the home to the only existing high speed rail service in the nation, the NEC (Northeast Corridor) received far less than other corridors," in federal funding.
The recent letter from Senators Cardin and Mikulski bolsters this claim adding, "Although the Northeast Corridor has the only operating high speed train in the country, the Corridor has received less than two percent of the $10.5 billion provided by Congress for the High Speed Intercity Passenger Rail Program to date."
It continues, "We believe that this is an insufficient investment in the Northeast Corridor, given our region's position as a population and economic mega-region."
According to the letter from the senators, 250 million rail passengers use the corridor each year and passenger use is projected to increase by 60 percent by 2030.
O'Malley also said that the funding would help ease transportation problems due to aging, insufficient, and failing infrastructure.
New York Representatives Louise Slaughter and Paul Tonko have also requested that a portion of the funds from Florida be diverted to New York.
The White House plans to spend $53 billion on high speed rail projects over the next six years and $8 billion in the coming fiscal year alone.
Last December, $2.9 million in rail funds were diverted to projects in western Massachusetts after governors from Ohio and Wisconsin refused the funding.