Border security

Mexico accidentally invades U.S.

On Tuesday, the Mexican Army accidentally "invaded" the United States when thirty-three of its soldiers mistakenly crossed the border into Texas in Humvees; the soldiers were driving in a convoy consisting of four Humvees when they realized they had started driving on a bridge over the Rio Grande where they could not turn their vehicles around until they entered the United States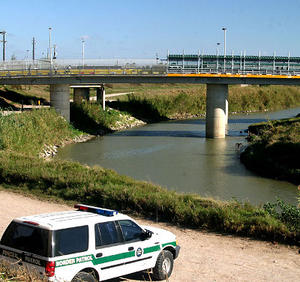 Mexican soldiers found themselves on a bridge into the U.S. // Source: newsoxy.com
On Tuesday, the Mexican Army accidentally "invaded" the United States when thirty-three of its soldiers mistakenly crossed the border into Texas in Humvees.
According to Rick Pauza, a spokesman for Customs and Border Protection, the soldiers were driving in a convoy consisting of four Humvees when they realized they had started driving on a bridge over the Rio Grande at Donna, Texas where they could not turn their vehicles around until they entered the United States.
The Monitor, a local newspaper in McAllen, Texas, reported that the convoy was chasing a resident of South Texas at the time.Pauza called it an "inadvertent" incident and went on to explain, "There are times when an incident such as this occurs."
"CBP has established protocols in place to handle such incident and all personnel have been processed as per those protocols. They returned to Mexico without incident," he said.
Mexico's National Ministry of Defense also acknowledged that the incident occurred and called it "involuntary."
In a statement, the ministry said the event happened "due to the vehicle turnaround being on the American side." The statement did not offer an explanation of why the Humvees drove onto the bridge.