Mexico: descent into chaos

Mexico deploys Israeli UAVs in war on drug cartels

Since December 2006, nearly 30,000 Mexicans have been killed in that country's increasingly vicious drug war; the relentless flow of guns from the United States into Mexico has significantly strengthened the drug cartels, allowing them not only to withstand the efforts by the Mexican authorities to impose law and order, but in many cases to take the operational initiative, making large swaths of the country ungovernable; the Mexican government, for its part, is bolstering its own capabilities: last year it has secretly purchased surveillance UAVs from Israel to perform monitoring tasks in border areas and near strategic installations in the country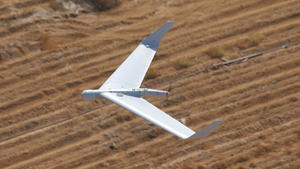 Israeli UAV acquired by Mexico // Source: defence.pk
The relentless flow of guns from the United States into Mexico has significantly strengthened the drug cartels in that country, allowing them not only to withstand the efforts by the Mexican authorities to impose law and order, but in many cases to take the operational initiative. The result are the increasing militarization of the government's law enforcement campaign, and the alarming increase in the number of people being killed in the war. Since December 2006, when President Felipe Calderon ordered the crackdown, more than 28,000 Mexicans have been killed.
The Mexican government is not giving up, though. In the middle of last year it acquired an unknown number of Israeli-made surveillance drones to perform monitoring tasks in border areas and near strategic installations, according to a defense ministry document obtained by EFE under freedom of information laws.
Latin America Herald Tribune reports that the ministry said it paid $23.5 million for each Hermes 450, an unmanned aerial vehicle manufactured by Israel's Elbit Systems, but it declined to say how many units were purchased.
The Hermes 450, which is being used in the southwestern portion of the United States to watch the border with Mexico, has an electronic system that can provide information in real time and allows the aircraft to fly independently with the help of a GPS system.
The drones can operate at a maximum altitude of 5,500 meters (18,000 feet) and can remain in the air for up to twenty hours. Each drone is operated by three people, who must go through a training period lasting between one and eight months.
The purchase of the Hermes 450 was made under President Calderon, who has turned the fight against organized crime into one of his political priorities and deployed the army at key points in the country's most conflict-ridden states to carry out public security tasks.
In contrast to other acquisitions of military technology by Mexico, up to now the Hermes 450 purchase had not been made public and not a single one of the drones had been publicly presented. EFE.