Trend

New airport security drive spurs scanner patent surge

The averted Christmas bombing was only the latest evidence that there is a need for better, and more sophisticated, airport security technologies; a look at the dossiers of the U.S. Patent Office shows that many companies and individuals have applied for patents for a variety of security technologies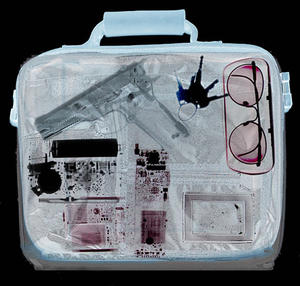 Scanned bag // Source: therawfeed.com
The conventional wisdom, in the wake of the failed Christmas terrorist attack, is that the big beneficiaries will be will be Rapiscan Systems and L-3 Communications. The two are the companies which are TSA-qualified to provide airport scanners. Alexander Wolfe writes in Informationweek that a quick USPTO search, however, turns up a cornucopia of interesting patents, which could set off a security tech gold rush.
Both L-3 and Rapiscan are no slouches in the patent department. L-3 Communications is a big time C-cubed (command, control, and communications) vendor in the military/aerospace realm. As such, its proprietary technology holdings extend well beyond airport scanners and Wolfe turned up 297 patents in total.
On the airport tech front, L-3 has "Methods and apparatus for detecting objects in baggage." This patent, number 7,613,316, awarded in November, is for a way to detect sheet explosives using gradient analysis via X-rays (Wolfe infers this means you can pick out the explosive by algorithmically detecting its edges, compared to the rest of the stuff stuffed into passengers' luggage.)
Then there is patent 7,561,664, "Increased throughput inspection station." Awarded last July, this is a "method and apparatus for inspecting items for the presence of contraband." As the picture included with the patent verifies, this is pretty much your standard airport scanner, where luggage moves on a conveyer belt past a big inspection station.
Wolfe notes that most interestingly, the patent appears to be not for the contraband detection itself, but rather for the technique of sending baggage on a belt. That is, it is a process patent, and you can plug in any detector you want. "The better to monetize, license-wise, I guess,' Wolfe writes.
Turning to Rapiscan Systems, their focus is as the name implies — baggage inspection. They have got 31 patents. The most recent addition is a microwave scanning system, "Methods and systems for the rapid detection of concealed objects" (patent 7,579,845). There is also a multiple pass cargo inspection system(patent 7,526,064), which looks like your typical airport scanner, and "Self contained mobile inspection system (7,486,768).
Wolfe writes that the point of he makes is that it may appear that there are many companies waiting in the wings with airport security technology. Turns out there might not be lots, but there will be some. Like Clifford Sweatte, who in April 2009 was awarded patent 7,515,055, "Method and system for airport security." The idea here is that passengers will be given a wireless card and it'll be used to enable them to get through security.
Says the patent abstract: "The system detects and tracks any undesirable person in the airport or building and provides a means for apprehending the person by security or law enforcement personnel." Yes, but first you have to have the card.
Another patent, number 7,090,126, from Patrick Kelly and George Benskin, awarded in 2006, is for "Method and apparatus for providing heightened airport security." According to the abstract: "A check-in agent receives information identifying a passenger seeking to board a commercial carrier. The passenger is designated as checked-in, and then the present system may use a frequent flyer card or a boarding pass to monitor a location of the checked-in passenger prior to boarding the commercial carrier." Wolfe notes that this patent screams prior art, plus it is too old to be applicable to the latest challenges.
Most interesting was patent application number 20090177606, filed last July, for "Risk assessment in a pre/post security area within an airport." Although it is not apparent on the application, the three inventors listed — Robert Lee Angell, Robert Friedlander, and James Kraemer — are associated with IBM. According to a Google search, they appear to be heavy duty data-analysis experts.
That would dovetail with the patent application, which says it is for
a risk assessment method and system." The method includes receiving by an inference engine, first sensor cohort data associated with a first cohort located within a pre/post security area within an airport. The inference engine receives first group technology inferences associated with the first cohort. The inference engine generates first risk cohort inferences based on the first group technology inferences and the first sensor cohort data. The inference engine receives inference data comprising inferences associated with the first cohort. The inference engine generates second inference data comprising a second plurality of inferences associated with the first cohort. The second inference data is based on the inference data and the first risk cohort inferences. The inference engine generates a first associated risk level score for the first cohort. The computing system stores the second inference data and the first associated risk level score.