Maritime security

New Coast Guard vessel exceeds expectations in rough Alaskan waters

The U.S. Coast Guard's new line of flagship vessels, the National Security Cutter (NSC), has proven invaluable to the agency's mission since its deployment in 2009; the vessels' capabilities reflect the additional responsibilities that the Coast Guard has shouldered since the 9/11 attacks; the new Legend Class National Security Cutters come as the replacement for the Coast Guard's aging Hamilton Class High Endurance Cutters that have been in operation since the 1950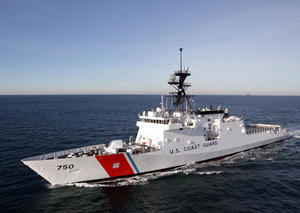 USCG NSC Bertholf under way // Source: vis-soft.net
The U.S. Coast Guard's new line of flagship vessels, the National Security Cutter (NSC), has proven invaluable to the agency's mission since its deployment in 2009.
The vessels' capabilities reflect the additional responsibilities that the Coast Guard has shouldered since the 9/11 attacks. For instance the new ships are capable of deploying smaller boats, helicopters, and unmanned aerial vehicles allowing ships to patrol vast areas.
These capabilities, more commonly found on U.S. Navy vessels, will allow the Coast Guard to more quickly and effectively screen and locate vessels before they arrive in U.S. waters. In addition, these capabilities give boarding teams greater ease in conducting onboard verification.
NSCs are also long-endurance vessels that can remain at sea for twenty-four days at a time, while still maintaining a safe fuel reserve for emergencies.
The new Legend Class National Security Cutters come as the replacement for the Coast Guard's aging Hamilton Class High Endurance Cutters that have been in operation since the 1950s.
The versatility of the new NSCs has been particularly useful for crews patrolling in the stormy seas near Alaska. April marked the first time the new NSC had been deployed for the Coast Guard's demanding Alaska Patrol (ALPAT).
With ALPAT the Coast Guard must maintain vigilance year round conducting a variety of missions that include enforcing borders, economic security, marine resource protection, and search and rescue missions over much of the North Pacific and Arctic Ocean.
The Coast Guard is the sole DHS agency equipped with maritime capabilities, so the agency's ships must prevent any unregistered ships from breaching international maritime boundaries and enforcing exclusive economic zones.
ALPAT's role in enforcing economic zones and protecting fisheries is particularly critical as more than five billion pounds of fish and shellfish for the U.S. market is harvested there each year.
In a blog entry, Captain Jon Prince, the commanding officer of
NSC
Bertholf,
praised
the ship's performance in the rough Alaskan seas.
"We've experienced 20-foot seas and winds in excess of 60 knots with temperatures below freezing, and despite these sea conditions the ship has remained within pitch and roll limits to launch our helicopter. We have been able to make a comfortable 12 to 15 knots through the water in seas up to 14 feet, validating the sea keeping and stability of the NSC and our ability to respond quickly to any emergency," he wrote.
Captain Prince added, "Our boarding teams have conducted close to 20 safe and effective fisheries law enforcement boardings in seas up to eight feet, on vessels ranging from 58 feet to more than 200 feet" and the "helicopter has conducted more than a dozen flights."
Meanwhile in far warmer waters, the NSC Campbell just completed its sixty day tour in the Caribbean Sea. While on patrol, the ship's crew successfully interdicted one ton of cocaine that had been hidden away on a fishing vessel. The smuggler's cargo had an estimated street value of more than $20 million.