New method of sensing concrete corrosion
Published 12 February 2010
Researchers develop a novel sensor system to monitor the early signs of concrete corrosion, which could reduce expensive, long-term maintenance costs; the sensors measure the key parameters related to concrete corrosion — pH, chloride, and humidity — in highly alkaline environments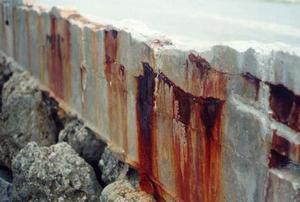 Example of corroded concrete caused by carbon steel reinforcing rods // Source: nasa.gov
Researchers at City University London have secured £210,000 in funding from the U.K. Engineering and Physical Sciences Research Council (EPSRC) to explore the commercial potential of a novel sensor system to monitor the early signs of concrete corrosion, which could reduce expensive, long-term maintenance costs.
The project, entitled "Advanced Corrosion Monitoring for Marine and Civil Infrastructure — Bringing New Technology Closer to Market," will build upon previous EPSRC-funded research. That work developed durable, in-situ sensors to measure the key parameters related to concrete corrosion — pH, chloride, and humidity — in highly alkaline environments, where existing sensors have shown limitations in terms of sensing range and operational lifetime. Such environments include hostile marine atmospheres, locations in which de-icing salts are often used, or areas with high-sulphate ground conditions.
The research will be led by City's Tong Sun, professor of sensor engineering, and Professor Ken Grattan, conjoint dean of the School of Engineering and Mathematical Sciences and the School of Informatics, who will work with Dr. Su Taylor, a senior lecturer in Structural Engineering at Queen's University Belfast.
"Our work promises to provide industry with access to improved data on concrete corrosion, enabling timelier and more cost-effective maintenance of buildings in harsh environments, such as marine structures or railway bridges," said Sun.
The one-year research program is scheduled to start from March 2010.