Infrastructure

Rubber dam at Tempe Town Lake bursts, emptying lake overnight

An inflatable rubber dam (called "bladder") on Tempe's Town Lake exploded, sending a wall of water into the Salt River bed; at least three-quarters of the about one billion gallons of water had drained overnight; those parts of the rubber dam which are wet have held up, but a plan to keep those parts of the dam which are above water failed, exposing the rubber to scorching sun that has damaged the material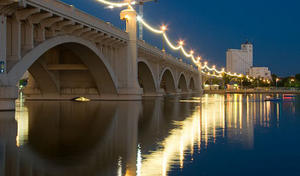 Rubber dams across the Salt RIver produce this beautiful view // Source: marcosound.dk
Tempe Town Lake overnight became a bog after one of the four inflatable bladders at the west end of the lake exploded, sending a wall of water into the Salt River bed. On Wednesday morning swampy patches of earth could be seen in many parts of the lake bed, with standing water in the center.
Tempe spokeswoman Kris Baxter estimated that at least three-quarters of the about one billion gallons of water had drained overnight. Officials say the dam breach left some areas of the lake with three feet of water or less; the average lake depth is about sixteen feet.
The Arizona Republic's Karina Bland and William Hermann write that Tempe City councilman Corey D. Woods said the city had been planning to replace the four rubber bladders at both ends of the lake starting last spring. He said, however, that heavy rains and subsequent releases into the Salt River prevented that work from getting started on time.
"We already have two bladders in hand and were prepared to do the earthwork but couldn't," Woods said. Water was being released into the river all spring, he said.
Tempe Fire spokesman Mike Reichling said, "Fortunately, we were prepared for this exact circumstance. Within the last few months we had a drill for what we would do if this happened.
In April 2009 Tempe officials said they intended to ignore a safety recommendation from the makers of Town Lake's rubber dams because sufficient safeguards already were in place to prevent the dams from deflating.
The dams' manufacturer, Bridgestone Industrial Products, had urged Tempe to evaluate whether the safety measures at the lake were sufficient "to prevent injury and reduce the risk of loss of life" if the dams were to rapidly deflate. Bridgestone manufactured the eight inflatable dams that contained the lake.
The eastern dams upstream are submerged and have held up. A plan to keep the western dams wet failed, however, exposing the rubber to scorching sun that has damaged the material.
Tempe and Bridgestone officials have argued over whose fault that is. In March 2009 the City Council approved an agreement for Bridgestone to replace the four damaged dams at the lake's western end.
Bland and Hermann write that the question of people's safety on the lake if the dams were to deflate remained a sticking point. Bridgestone recommended that the city look at increasing the buffer zone between safety buoys and the western dams, adding warning signage and enhancing the alarm system to better warn lake users if the dams rapidly deflate.
The cost to temporarily replace the dams was estimated at $2.5 million earlier this year. Tempe at that time budgeted an additional $250,000 to fund the project's contingency costs. Bridgestone was expected to reimburse Tempe up to $3 million of the costs to replace the dam.