Water

Saltwater intrusion threatens South Florida's water supplies

Published 15 September 2011

South Florida's water supply is becoming increasingly endangered by saltwater that is steadily seeping in from the ocean and contaminating supplies; despite the best efforts of local communities to stop the problem, saltwater intrusion is spreading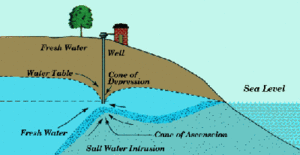 Schematic showing means of saltwater intrusion // Source: caloosahatchee.org
South Florida's water supply is becoming increasingly endangered by saltwater that is steadily seeping in from the ocean and making supplies undrinkable.
In recent years, saltwater intrusion has become worse as South Florida's underground water supplies are drained and droughts have exacerbated the problem with inadequate levels of rain to replenish supplies.
Pumping too much water from these underground supplies allows saltwater to enter from the coast and 90 percent of South Florida's water supply comes from underground aquifers, chiefly the Biscayne aquifer.
Hector Castro, the Hallandale Beach public works and utilities director, said that despite the best efforts of local communities to stop the problem, saltwater intrusion is spreading.
"It is still progressing westward," Castro said. "Eventually all coastal communities will deal with this in some way, shape or form."
Pete Kwiatkowski, South Florida Water Management District water-shortage incident commander, echoed Castro's comments, stating, "It's a serious threat. That saltwater front is very dynamic (and) it does shift."
So far six out of the eight wells that Hallandale Beach depends upon have been closed as a result of saltwater intrusion as 85 percent of the city is located in areas where saltwater has creeped in.
To obtain fresh water, the city has been forced to obtain half of its water from Broward County's western well fields and is currently hoping to build six new wells with water lines. The project will cost roughly $10 million to build and $36 million to operate over the next forty years.
"Any given day, if we were to pull too much water … we could lose another well," Castro said.
Hallandale Beach is not the only city has been threatened by saltwater intrusion. Pompano Beach, Dania Beach, Lantana, and Lake Worth have also experienced their own troubles and cities further inland ranging from Jupiter to Florida City like Fort Lauderdale, Hollywood, and Miami are increasingly threatened.
With sea levels expected to rise in the coming years, saltwater intrusion will continue to spread making it more difficult and costly for communities in South Florida to obtain drinking water.
To help stem this growing problem, some cities have begun building wells further inland and reduced the amount of water they pump out of underground wells, but these are largely stopgap measures.
Some utilities have started to develop new water plants that are capable of tapping into and treating deeper and saltier underground water supplies.
For instance Lake Worth recently completed a $24 million reverse osmosis water plant to that pumps five to seven million to 7 million gallons of water a day flowing, without threats from saltwater. In addition, the city has imposed strict, water usage limits where residents can only water their lawns once a week to help cut down on consumption and avoid saltwater intrusion.
Not all cities are prepared to build similar water treatment facilities as they are costly. Ron Nunes, the chairman of the Southeast Florida Utility Council, argues that better engineering and planning could help beat back the spread of saltwater.
To help control floods, cities in South Florida built preventative measures on the Everglades swamp which has resulted in the loss of nearly two billion gallons of storm water each day after a typical South Florida summer rainstorm. Instead of simply letting the storm water run into the ocean, Nunes argues that redirecting storm runoff back into underground aquifers can help naturally bolster aquifer supplies and beat back encroaching saltwater.
"The biggest issue is the water is there and it is all going out to sea," Nunes said. "Why can't it be re-engineered to help keep the saltwater back?"