ISC West 2011

Securing America's ports

Each year roughly $3 trillion worth of goods enters into the United States via water and more than 90 percent of the world's cargo travels by sea making ports a prime target for terrorist organizations; it was not until the after 9/11 that port security became a top priority; the Port of Long Beach handles 40 to 45 percent of all the goods that enter the United States; to secure the 3,200 acre Port of Long Beach, the port has added a sophisticated series of security measures in recent years; a senior official from the Port of Long Beach will be speaking at a panel at the upcoming ISC West Conference to discuss port security strategy and interagency coordination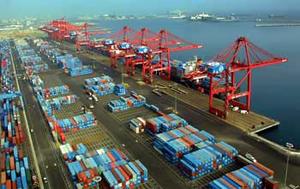 The Port of Long Beach, busiest in the U.S. // Source: great-structures.com
Each year roughly $3 trillion worth of goods enters into the United States via water and more than 90 percent of the world's cargo travels by sea making ports a prime target for terrorist organizations looking to cripple the world economy.
In particular, the Port of Long Beach is a central hub for the United States handling 40 to 45 percent of all the goods that enter the United States, but it was not until the after 9/11 that port security became a top priority for lawmakers. Now counter-terrorism officials are implementing balanced solutions that allow cargo to pass through safely, without hindering the flow of goods to businesses. This is no small endeavor as the Port of Long Beach alone handled over 6.2 million shipping containers worth $140 billion on nearly 5,000 ships.
Before 9/11 port security was primarily focused on screening cargo to ensure smooth business operations, but since the attacks, security has increasingly focused on protecting the physical infrastructure of ports as well.
Bethann Rooney, the manager of port security for The Port Authority of New York and New Jersey, said, "Security prior to 9/11 was more about cargo theft and pilferage than it was about access control and knowing who's coming in and out of our terminals and facilities," but after 9/11, "there was a paradigm shift in terms of security."
According to Eric Holdeman, the former director of the King County, Washington Office of Emergency Management, port security is a bit "like screening passengers in that you're looking for the needle in the haystack of what bad things could exist out there — anywhere from radiation types of materials to an actual nuclear device to a bioweapon."
Screening cargo, securing the facilities, and safeguarding the ships, rail yards, and trucks that pass through ports is no easy feat. The sheer size of these facilities requires tight coordination to successfully monitor the various actors involved in the process who all operate under the jurisdiction of different authorities.
To discuss these issues and to examine how the Port of Long Beach is guarding against terrorist threats, Michael McMullen, the lead project manager of the Port of Long Beach Security Division, will be speaking at the upcoming ISC West Conference.
To secure the 3,200 acre Port of Long Beach, the port has added a sophisticated series of security measures in recent years to monitor threats on both land and water.
For water-born threats,