Maritime security

Ships increasingly turning to armed guards to combat piracy

To stem the rapidly growing number of pirate attacks in the Indian Ocean, more shipping companies are turning to armed guards; last year attacks off the Somali coast hit an all-time high with forty-nine ships hijacked along with 1,016 crew members; to combat the growing threat of piracy an estimated 20 percent of ships operating in the Indian Ocean and the Gulf of Aden will hire armed guards within the next eighteen months, up from 12 percent; analysts say no ships have been successfully hijacked when armed guards were present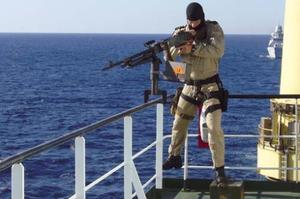 Member of Dutch special forces on Dutch merchant ship // Source: stripes.com
To stem the rapidly growing number of pirate attacks in the Indian Ocean, more shipping companies are turning to armed guards.
According to the International Maritime Bureau, last year attacks off the Somali coast hit an all-time high with forty-nine ships hijacked along with 1,016 crew members.
In addition, last year pirate attacks added $2.4 billion in costs to shipping companies and the average ransom payments increased to $5.4 million. In 2005, the average ransom was $150,000.
To combat the growing threat of piracy, Peter Cook, a spokesman for the Security Association for the Maritime Industry, said that an estimated 20 percent of ships operating in the Indian Ocean and the Gulf of Aden will hire armed guards within the next eighteen months, up from 12 percent.
Andrew Bardot, the executive officer of the International Group of P&I Clubs, which insures 90 percent of the world fleet against liability claims, explained that when faced with piracy, armed guards is an appealing option for shipping companies because they have proven effective.
Bardot said, "There is a wish by some shipowners to have armed guards on board and you can't dispute the fact they are successful."
As evidence, he said that no ships have been successfully hijacked when armed guards were present.
Cook said that most shipping companies employ three to five guards and will hire extra staff on a freelance basis paying about $100 million a year to security companies for their services.
He added that at any given time there are an estimated fifty to eighty teams of armed guards deployed on vessels.
To regulate the maritime security industry, the International Maritime Organization (IMO), the shipping arm of the United Nations, is expected to approve vetting procedures for private security guards this month.
IMO discourages shipowners from hiring private guards, but likely faces no option but to issue regulations as private security has become a growing trend.
"The maritime security industry wants to be regulated," said Cook. His organization, the Security Association for the Maritime Industry, represents one fifth of all private security firms and help shipping companies distinguish between "good maritime companies" and "entrepreneurs."