First response

Spray-on skin to be commercialized

Published 20 October 2010

Sheffield, U.K.-based Altrika set to produce a spray version of its Cryoskin donor skin cell product that can be applied in hospitals outside of a sterile surgical environment in order to reduce treatment time; the spray would be stored in individual doses so the right number of skin cells can be selected once the wound is assessed; the cells would then be thawed as the patient is being prepared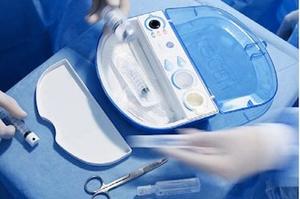 Spray-on skin kit readied for application // Source: technovelgy.com
Good news for soldiers, first responders, fire fighters, and other potential burn victims. A British firm developing spray-on skin cells for burns victims has won £100,000 to commercialize its technology.
Sheffield, U.K.-based Altrika hopes to produce a spray version of its Cryoskin donor skin cell product that can be applied in hospitals outside of a sterile surgical environment in order to reduce treatment time. Donor skin cells grown in a lab and applied to a burn wound can speed up healing and reduce the need for costly secondary operations to treat scar problems.
Stephen Harris
writes
that Altrika's existing system, which is already available in hospitals, uses a silicon rubber sheet treated with cells, which is applied before the wound is dressed.
"That format is only really useable in a surgical setting," Altrika's business development director, Richard Snell, told Harris.
"The spray format could be used outside a perfectly sterile operating theatre. It would still need to be done by experts — you couldn't use it on the roadside. But only a fraction of people admitted to hospital with burns go into surgery, so this would dramatically increase the number of people who could benefit from it."
Altrika hopes to develop the spray to have similar storage and usage to the Cyroskin sheets, which are frozen and then thawed around twenty minutes before they are applied.
The spray would likely be stored in individual doses so the right number can be selected once the wound is assessed. Then they would be thawed as the patient is being prepared.
"The key challenge is that the [storage] surface provides a good basis for the cells and that may make them more robust to the freeze-thaw cycle," said Snell. "What we don't know is the correct formulation to be sure we can do that in a spray format. There are certain things we need to investigate: the solution in which the cells are suspended; the rate at which you freeze and thaw; then there are questions about the shelf life."
Harris notes that the skin cells are taken from a bank that stores many millions of potential doses, all grown from one original donor sample of neo-natal foreskin cells.
These grow prolifically and are more likely to be accepted by the patient's body.
The spray is a response to feedback from surgeons and the company plans to undertake clinical development work to make sure the product can treat the right wounds in the right way.
Snell said the spray could be available within nine months. It will first be used to treat burns because of the ease of meeting regulatory standards, but Altrika sees chronic wounds such as diabetic foot ulcers as the main market.
Altrika is one of four companies selected by the U.K. government's Technology Strategy Board (TSB) for funding through its Disruptive Solutions competition, the winners of which were announced at last week's Innovate10 conference in London.