Aviation security

TSA: Religion offers no exemption from airport screening

Published 17 November 2010

An airline passenger was thrown out of the San Diego airport for rejecting a full-body scan and pat-down groin check and instead insisting on passing through a metal detector; the Transportation Security Administration (TSA) says the agency will not allow airline passengers to get out of body imaging screening or pat-downs based on their religious beliefs; TSA chief John Pistole said that passengers who refuse to go through a full-body scanner machine and reject a pat-down will not be allowed to board, even if they turned down the in-depth screening for religious reasons; "That person is not going to get on an airplane," Pistole said yesterday in a congressional committee testimony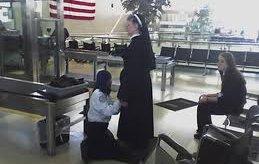 There are no exceptions // Source: consumertraveler.com
A couple of months ago we wrote about how Canadian were outraged to discover that at Montreal's Trudeau International Airport, security personnel did not ask veiled Muslims women to lift their veils, show and ID, and prove their identity. The veiled women did not even interact with security personnel: rather, a man traveling with the women would typically hand in all the passports and would be the only one to communicate with airline staff while the veiled women simply walked through, unchecked and unidentified ("Canadians outraged: Veiled Muslim women not required to lift veil, prove ID at airports," 4 August 2010 HSNW).
The Canadian security authorities have since changed that indulgent approach.
In the United States there will be nothing to change because, according to the Transportation Security Administration (TSA) because the agency will not allow airline passengers to get out of body imaging screening or pat-downs based on their religious beliefs.
Fox News reports that TSA chief John Pistole told the Senate Homeland Security Committee on Tuesday that passengers who refuse to go through a full-body scanner machine and reject a pat-down will not be allowed to board, even if they turned down the in-depth screening for religious reasons.
"That person is not going to get on an airplane," Pistole said in response to a question from Senator John Ensign (R-Nevada), on whether the TSA would provide exemptions for passengers whose religious beliefs do not allow them to go through a physically revealing body scan or be touched by screeners.
Civil rights groups contend the more intensive screening violates civil liberties including freedom of religion, the right to privacy, and the constitutional protection against unreasonable searches.
The issue is getting new attention after a man posted an item online saying he was thrown out of the San Diego airport for rejecting a full-body scan and pat-down groin check and instead insisting on passing through a metal detector.
Pistole acknowledged the incident was drawing wide attention but told the committee an officer involved was "very cool, calm, professional" in dealing with the passenger.
The Electronic Privacy Information Center (EPIC) is among several civil liberties groups suing the TSA in federal court to stop use of the full-body scanners.
Their lawsuit says the machines are overly intrusive and violate civil rights, and that it is questionable whether they can detect powdered explosives such as those used by a passenger in last year's attempted Christmas airliner bombing. They also question whether the machines pose a health risk.
"There's a very strong sense right now that the public attitude on the airport body scanner program has swung dramatically," said Marc Rotenberg, director of EPIC. There is growing opposition from civil rights groups, religious organizations, libertarians, airline passengers and pilots, he said.
EPIC is urging air travelers to take part in a national opt-out day the day before Thanksgiving, refusing to go through the full-body detectors and insisting that any pat-down they receive as a result take place in full view of other passengers.
Several senators asked Pistole to address public criticism of the body-imaging machines and more intrusive pat-downs the agency is using. Pistole said the tougher screening is necessary, and that the FDA has found the imaging machines to be safe. Going through the whole-body scanning machine is similar to getting about three minutes of the radiation that passengers receive at 30,000 feet on a typical flight, he said.