U.K. second-generation ePassports project appears doomed
A clause in the coalition agreement between the Conservatives and the Liberal democrats call for chopping the second generation e-Passport scheme initiated be the departing Labor government; the U.K. biometric industry may not like this, but it is not yet clear what the impact on the industry will be; depending upon the water-tightness of contracts already signed with suppliers, the ID card project could still be fundamentally redesigned, rather than scrapped in its entirety; also, many other U.K. biometric projects will continue — IDENT1, Border Agency's visa application program, eBorders program, and various Ministry of Defense documents that use the technology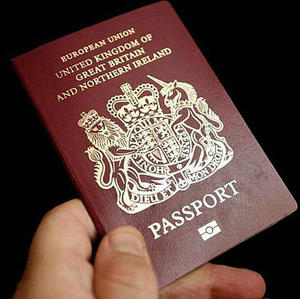 U.K. e-Passport // Source: thisislondon.co.uk
Second generation ePassports will be chopped under the new Conservative-Liberal coalition government in the United Kingdom. The move does not break any European legislation, but it would put the United Kingdom behind its European partners who are committed to rolling out fingerprint-based documents.
Security Document World reports that the new government's intentions are spelled out in the Civil Liberties section of the coalition agreement, which said:
The parties agree to implement a full program of measures to reverse the substantial erosion of civil liberties under the Labor Government and roll back state intrusion. This will include…the scrapping of the ID card scheme, the National Identity register, the next generation of biometric passports and the Contact Point Database.
The document also said it would outlaw the fingerprinting of children at school without parental permission, adopt the protections of the Scottish model for the DNA database, further regulate CCTV, and end of storage of internet and e-mail records without good reason.
On its Web site the Identity & Passport Service (IPS) said it will announce, in due course, the mechanics of how the cuts will be made. IPS said that applications can continue to be made for ID cards but it would advise anyone thinking of applying to wait for further announcements.
Until Parliament agrees otherwise, identity cards remain valid and as such can still be used as an identity document and for travel within Europe.
Security Document World notes that the new policy may be a black day for the U.K. biometric industry, but that sources told SDW that there was still a lot of water to flow under the bridge before the final picture emerges. For example, depending upon the water-tightness of contracts already signed with suppliers, the ID card project could still be fundamentally redesigned, rather than wastefully scrapped in its entirety — perhaps a model following the German example, which does not have a central database, and is much more user friendly, could be considered.
Meanwhile, many other highly successful projects still have biometrics at their heart and are delivering results for U.K. government and national security. One good example is IDENT1, the U.K. central national database for holding, searching and comparing biometric information on those who come into contact with the police as detainees after being arrested. Information held includes fingerprints, palm prints and scene of crime marks.
There is also the U.K. Border Agency's visa application program, which requires all applicants aged five or over to have their ten fingerprints taken alongside a digital photograph.
Elsewhere, there is the eBorders program and various Ministry of Defense documents that use the technology.