Cargo security

U.S. no longer mandating 100 percent screening of cargo containers

DHS Secretary Janet Napolitano announced that the United States is no longer going to screen every cargo container before it enters the United States; she said, "We believe the so-called 100 percent requirement is probably not the best way to go"; in 2007 Congress mandated that all containers entering the United States must be scanned at their ports of exit by 2012; the 2007 bill empowers DHS to extend the 2012 deadline if the agency believed that the goal was not achievable and in the past Napolitano has expressed doubts about the feasibility of screening 100 percent of the cargo entering the United States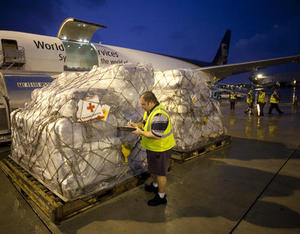 DHS fails to reach Congressional screening mandate // Source: aircargoworld.com
DHS Secretary Janet Napolitano announced that the United States is no longer going to screen every cargo container before it enters the United States.
On a visit to the Netherlands' Rotterdam port, the fourth largest in the world, Napolitano said, "We believe the so-called 100 percent requirement is probably not the best way to go."
In 2007 Congress mandated that all containers entering the United States must be scanned at their ports of exit by 2012, but Napolitano said, "We at this point are not going to insist on that." Earlier this week, Napolitano met with Home Secretary Theresa May, her British counterpart, as well as with other EU ministers to explain the U.S. position on the security mandate.
The 2007 bill empowers DHS to extend the 2012 deadline if the agency believed that the goal was not achievable and in the past Napolitano has expressed doubts about the feasibility of screening 100 percent of the cargo entering the United States.
Napolitano says rather than scanning all cargo containers, DHS prefers a "layered approach" that includes increased cooperation between countries and better intelligence sharing and analysis in addition to screening some containers.
She explained, "I think what we have learnt over time is that there are many different ways to achieve a security objective. You have to have multiple layers that operate effectively."
Napolitano is currently abroad on week-long visit to Britain and other European nations to bolster support for global efforts to secure the supply chain.
So far about fifty ports around the world have signed on to the U.S.-led Container Security Initiative (CSI) which is aimed at preventing terrorist attacks and the smuggling of dangerous materials by mandating that port authorities pre-scan and evaluate containers.