Immigration

U.S. replaces noisy immigration raids at place of employment with "silent audits"

The Obama administration has replaced noisy, media-covered immigration raids at factories and farms with a quieter enforcement strategy: sending federal agents to scour companies' records for illegal immigrant workers; one expert says: "Instead of hundreds of agents going after one company, now one agent can go after hundreds of companies"; employers say the Obama administration is leaving them short of labor for some low-wage work, conducting silent raids but offering no new legal immigrant laborers in occupations, like farm work; federal labor officials estimate that more than 60 percent of farm workers in the United States are illegal immigrants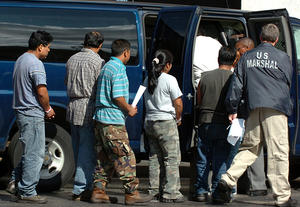 The mass raid by ICE agents may become a thing of the past // Source: cleveland.com
The Obama administration has replaced immigration raids at factories and farms with a quieter enforcement strategy: sending federal agents to scour companies' records for illegal immigrant workers.
While the sweeps of the past commonly led to the deportation of such workers, the "silent raids," as employers call the audits, usually result in the workers being fired, but in many cases they are not deported.
The New York Times's Julia Preston writes that over the past year, Immigration and Customs Enforcement (ICE) has conducted audits of employee files at more than 2,900 companies. The agency has levied a record $3 million in civil fines so far this year on businesses that hired unauthorized immigrants, according to official figures. Thousands of those workers have been fired, immigrant groups estimate.
Employers say the audits reach more companies than the work-site roundups of the administration of President George W. Bush. The audits force businesses to fire every suspected illegal immigrant on the payroll — not just those who happened to be on duty at the time of a raid — and make it much harder to hire other unauthorized workers as replacements. Auditing is "a far more effective enforcement tool," Mike Gempler, executive director of the Washington Growers League, which includes many worried fruit growers, told Preston.
"Instead of hundreds of agents going after one company, now one agent can go after hundreds of companies," said Mark K. Reed, president of Border Management Strategies, a consulting firm in Tucson that advises companies across the country on immigration law. "And there is no drama, no trauma, no families being torn apart, no handcuffs."
President Obama, in a speech last week, explained a two-step immigration policy. He promised tough enforcement against illegal immigration, in workplaces and at the border, saying it would prepare the way for a legislative overhaul to give legal status to millions of illegal immigrants already in the country. White House officials say the enforcement is under way, but they acknowledge the overhaul is unlikely to happen this year.
Preston notes that in another shift, the immigration agency has moved away from bringing criminal charges against immigrant workers who lack legal status but have otherwise clean records.
Employers say the Obama administration is leaving them short of labor for some low-wage work, conducting silent raids but offering no new legal immigrant laborers in occupations, like farm work, that Americans continue to shun despite the recession. Federal labor officials estimate that more than 60 percent of farm workers in the United States are illegal immigrants.
John Morton, the head of the immigration agency, known as ICE, said the goal of the audits is to create "a culture of compliance" among employers, so that verifying new hires would be as routine as paying taxes. ICE leaves it up to employers to fire workers whose documents cannot be validated. An employer who fails to do so risks prosecution.
ICE is looking primarily for "egregious employers" who commit both labor abuses and immigration violations, Mr. Morton said, and the agency is ramping up penalties against them.
In April, Michel Malecot, the chef of a popular bakery in San Diego, was indicted on twelve criminal counts of harboring illegal immigrants. The government is seeking to seize his bakery. He has pleaded not guilty. In Maryland, the owner of two restaurants, George Anagnostou, pleaded guilty last month to criminal charges of harboring at least 24 illegal immigrants. He agreed to forfeit more than $734,000 (see "U.S. seeks the forfeiture of a business employing illegal aliens," 10 May 2010 HSNW