UAV update

USAF develops UAVs that fly themselves

Published 12 October 2010

A U.S. Air Force project will allow UAVs to fly themselves — in multiple-aircraft formations — without colliding; the USAF is working to develop systems that unmanned aircraft can use to sense the presence of other aircraft and take action to prevent collisions that are safe enough so that UAVs can perform any Air Force mission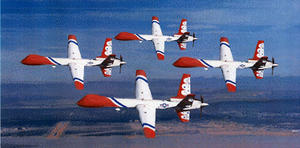 The autonomous UAV is on its way // Source: militantlibertarian.org
The U.S. Air Force is testing technology that would eventually allow UAVs to fly themselves — in multiple-aircraft formations — without colliding.
The Air Force Research Lab hopes to develop systems that unmanned aircraft can use to sense the presence of other aircraft and take action to prevent collisions that are safe enough so that UAVs can perform any Air Force mission, said Robert Smith, the lab's chief for future capabilities for cooperative airspace operations.
William Matthews writes in AirForce Times that the goal is for UAVs to operate autonomously, though the Air Force is unlikely simply to turn them loose. There would always be human supervision, an airman ready to take control if needed.
Smith predicts sense-and-avoid hardware will be on UAVs in five years, though it may take longer for the system to be deemed reliable enough to allow UAVs to fly in airspace with manned aircraft.
"No one expects that to happen right away. It will be a matter of experience," but gradually UAVs will be granted greater freedom of operations, he said.
Collision avoidance is not as simple as dodging an approaching aircraft. The sense-and-avoid system must consider whether a maneuver will put a UAV on a collision course with other nearby aircraft as well as Federal Aviation Administration (FAA) operating rules, said Vince Raska, a program manager for sense-and-avoid systems at the Air Force Research Lab.
So far, the lab has had success with a suite of sensors and computer algorithms that enable a UAV to avoid crashing into things. "It's not productized yet, but it's close to prototype," Raska said.
Matthews notes that the research lab spent several years developing the Multiple Intruder Autonomous Avoidance program, a sense-and-avoid system to enable single UAVs to detect and avoid colliding with multiple other aircraft.
As a natural progression, Air Force researchers are beginning to investigate how sense-and-avoid systems will have to evolve to handle multiple UAVs doing coordinated maneuvers, Raska said.
The Multiple Unmanned Aircraft Systems Sense and Avoid program is taking the knowledge gained from the single UAV program and applying it to multiple UAVs operating together, Raska said. When a single UAV decides to maneuver to avoid an imminent collision, "it only needs to worry about itself," he said. "But when there are two or more, how does that change?"
To answer that, the Air Force will begin with modeling and simulation, then extend it to UAVs during the three-year program.
The sense-and-avoid system is built on four sensors:
A traffic collision avoidance system, or

TCAS

, "interrogates" other nearby

TCAS

-equipped aircraft via radio, prompting them to reply. Using these electronic pings,

TCAS

develops a 3-D picture of the airspace.
An electro-optical sensor is essentially a camera that spots other aircraft by detecting their motion relative to the background.
An automatic dependent surveillance broadcast system, or

ADS

-B, calculates its own location by using global positioning satellites, and then broadcasts that position to other aircraft and ground stations.

ADS

-B works best when other aircraft are also equipped with it.
Radar provides a picture of what's in the immediate vicinity. The Air Force is developing new radars specifically for sense-and-avoid use on UAVs that are small and lightweight, able to track numerous objects and tuned to spot and track fairly close objects, unlike conventional radar, said John McCalmont of the Air Force Research Lab's sensors directorate.