Why SBINet has failed
New report says SBINet failed because the U.S. government rushed into it without a well-thought-out plan and without a sufficiently tight supervision of the prime contractor, Boeing; "Instead, [SBINet] has been based more on dreams, hopes and fantasy — and on the widely shared, but faulty, assumption that technology provided by private contractors could meet the challenge of securing the country's nearly 6,000 miles of land borders with remote surveillance systems"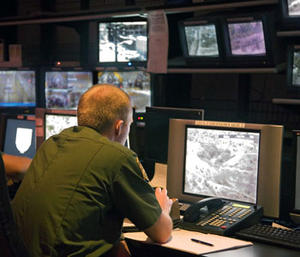 Government failure to set guidelines and benchmarks has led to the suspension of the "virtual fence" initiative. // Source: heritage.org
DHS as much as conceded that the Secure Border Initiative (SBINet) has been a failure. A report released in April by the Center for International Policy focused on the U.S. government's inability to devise a clear focus for securing the border and poor oversight of the projected $8 billion initiative to secure the nation's border.
"Not only did this expedited border security lack a strategy, but it also lacked a foundation of successful experience in high-tech border control," according to the report, Fallacies of High-Tech Fixes for Border Security. "Instead, it has been based more on dreams, hopes and fantasy — and on the widely shared, but faulty, assumption that technology provided by private contractors could meet the challenge of securing the country's nearly 6,000 miles of land borders with remote surveillance systems."
Tom Barry, author of the report and senior policy analyst at the CIP as its director of the TransBorder Project, told Leischen Stelter of the Security Director News that after the terrorist attacks of 9/11, followed by a push for immigration reform, the government jumped to secure the border, a rush that ultimately led to the failure of this program. "They couldn't manage to do it right because they were in such a hurry to show the American public that the government was fulfilling its responsibility to secure the border and they didn't do the adequate preparation."
Deploying surveillance technology along the border was intended to enable law enforcement better to monitor activity, but nearly five years later there is little documentation to prove it has been a force multiplier. "There's no way to show that this is more effective than having border patrol
on the ground instead of cameras and sensors and that's remarkable considering the cost," said Barry.
During his research, which included reaching out to law enforcement agencies along the border, Barry found that many agencies expressed a desire to have more "boots on the ground" rather than rely so heavily on technology. Although law enforcement agencies expressed eagerness to have improved methods of communication and technology such as GPS systems to improve their efficiencies, they did not view technology as being the primary solution to border issues.
Regardless of the solution, Barry said DHS has entered this project without a clear definition of the threats it is trying to combat and certainly without a focused strategy on how it plans to address those threats. "Maybe increased intelligence is the best expenditure of our money and not more boots on the ground or large technology projects," Barry suggested. "There clearly needs to be elements of technology particularly in ports of entry and these systems have their role, but complete operational control by technology seems overly ambitious."
The government's lack of focus and strategy meant that its primary contractor, Boeing, was largely on its own, Barry found. "Boeing had to come up with what they thought the government wanted and they weren't provided the specs of what kind of program platform and technology the government indeed wanted, so there was a lot of guesswork involved and neither party worked closely with each other in terms of developing it," he said.
"The prime responsibility lies with the government," Barry said. "The government is the one who has $8 billion to spend and if they're not going to give guidelines and not tell you even what type of benchmarks you need to meet, that's irresponsibility."
Boeing, however, is not completely absolved of responsibility, according to Barry. As a public corporation, its primary responsibility is to its shareholders, but the company does have an ethical obligation to deliver on its promises. "They have an ethical responsibility to say no when they went in there and said they could use off-the-shelf technology and said they could that put it in place and it would work and they assured the government that they could do that and clearly that was not the case," Barry said.