Disasters

Anchorage unprepared for next big quake

Geologists warn that Alaska's next big earthquake could be even larger than the Good Friday earthquake of 1964; the massive 9.2 magnitude earthquake is the second largest quake in recorded history and resulted in massive ground failures, tsunamis, and landslides; officials are worried about the Port of Anchorage which lies along an area that is highly susceptible to ground failure; engineers warn that with more than 50 percent of its foundation corroded the port cannot survive another massive quake; large portions of Anchorage are also vulnerable as building codes have not been strictly enforced; the city is built upon a unique soil that is prone to liquefaction in large earthquakes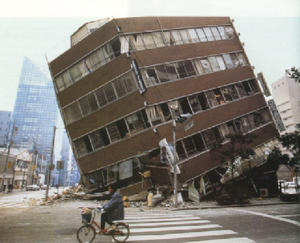 Alaska's Good Friday earthquake, 1964 // Source: dimensionsguide.com
Geologists warn that Alaska's next big earthquake could be even larger than the Good Friday earthquake of 1964. The massive 9.2 magnitude earthquake is the second largest quake in recorded history and resulted in massive ground failures, tsunamis, and landslides that wreaked havoc on buildings and infrastructure.
In particular, officials are worried about the Port of Anchorage which lies along an area that is highly susceptible to ground failure.
The destruction of the port would be a fatal blow to the area as it is a critical piece of infrastructure, providing a lifeline to south central Alaska by connecting the remote state to food, oil, and other needed supplies.
Dawn Brantley, the community preparedness manager at Municipal Emergency Management, says, "If the port goes down, I can tell you there are other methods to get things into and out of Anchorage."
The primary alternative to the port is air transportation and that would be greatly affected as the port supplies two-thirds of the fuel for Anchorage's international airport and 100 percent of the fuel to Elmendorf Air Force Base.
The Port of Anchorage was able to survive the 1964 earthquake with only minor damages as it had just been built. But engineers warn that forty years of wear and tear have left it unfit to survive another massive quake.
Todd Cowles, an engineer at the Port of Anchorage, explains, "Over time, the silt builds up under the dock and upland of the dock. If the soils beneath that were to liquefy, all of that weight from that material would come through the facility. Even if the piles were perfect, they are not driven deep enough through that failure plane. It's likely to take the facility with it."
The facility's foundations are also badly in need of repair leaving it even more susceptible to collapse. It is estimated that at least 50 percent of the 2,000 piles that support the port are corroded and only 20 percent of them have been bolstered with metal sleeves.
A 2009 memo found that the piles have well exceeded the original design's corrosion allowance.
Cowles says, "We generally repair about 20 pilings a year and it would take us another ten years to probably fix all of the ones that are suspect."
In the event of an earthquake, these corroded piles will face additional pressure as the sediment that has built up around it will liquefy and push against the piles leading to their collapse.
Large portions of Anchorage are also vulnerable as building codes have not been strictly enforced and to make matters worse, the city is built upon a unique soil that is prone to liquefaction in large earthquakes.
Anchorage currently sits atop layers of bootlegger clay, a substance that makes beautiful pottery but can lose strength during earthquakes. In 1964 the ground literally collapsed resulting in gaping cracks in downtown Anchorage and sent most of the Turnagain neighborhood tumbling into Cook Inlet.
To prevent damage from future earthquakes, state officials amended building codes sixteen times after the 1964 earthquake.
New buildings have been built to withstand a large quake, but older buildings are still seismically unsafe as officials have not mandated that they be retrofitted.
Ronald Wilde, a local municipal structural plan reviewer in Anchorage says the older structures are "absolutely not" up to current code.
"We have a lot of buildings, especially downtown, that were built maybe before these newer requirements came into play," he said.
Geologists warn that the next earthquake could hit at any time.