Border security

A city divided by DHS

The Rio Grande, which once marked the international boundary, now sandwiches the house that Pamela Taylor and her husband built more than fifty years ago and a tall steel barrier erected by DHS last year a quarter mile north of the Rio; the Taylor's two acres now lie on a strip of land that neither belongs to Mexico or the United States; Taylor and other residents believe that the government has not accounted for an estimated eight houses stranded on the other side of the fence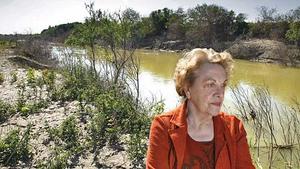 Pamela Taylor - caught between the U.S. and Mexico // Source: latimes.com
The Rio Grande, which once marked the international boundary, now sandwiches the house that Pamela Taylor and her husband built more than fifty years ago and a tall steel barrier erected by DHS last year a quarter mile north of the Rio. The Taylor's two acres now lie on a strip of land that neither belongs to Mexico or the United States. Taylor and other residents believe that the government has not accounted for an estimated eight houses stranded on the other side of the fence. "It's a no man's land," Taylor said. "They said they were going to build a fence to protect all the people. We were just lost in the draw."
When DHS began its Southwest border buildup four years ago, erecting barriers across the international boundary was ruler-straight for hundreds of miles from California to New Mexico, and planners laid the fencing down right on the border, traversing deserts, mountains and valleys.
Here, however, where the border's eastern edge meets the Gulf of Mexico, the urgency of national security met headlong with geographical reality. The Rio Grande twists through Brownsville and surrounding areas, and planners had to avoid building on the flood plain. So the barriers in some places went up more than a mile from the river.
While the border fence almost everywhere else divides Mexico and the nited States, here it divides parts of the city. In and around Brownsville, the fence slices through two-lane roads, backyards, agricultural fields, citrus groves and pastures for more than twenty-one miles, trapping tens of thousands of acres, according to some property owners' estimates. DHS did not keep track of the total. Narrow gaps allow back-and-forth access for cars and tractors, pedestrians and Border Patrol agents, but they are spaced as much as a mile apart.
Tensions escalated when the mostly Latino, working-class city of 172,000 realized that large segments of the fence would not sit anywhere near the international boundary. Planning challenges and fierce opposition held off construction crews for several years, making Brownsville the last border city to get barriers under the Secure Fence Act of 2006.
Authorities defend the barrier, saying it helps control illegal immigration and drug trafficking. The fencing does not stop immigrants, but they say it slows people down and funnels them to areas where U.S. Border Patrol agents can respond quickly.
"My son-in-law tells people we live in a gated community," joked Taylor, 82, who shares her modest