Keeping secrets

DHS chastises Chaffetz for disclosing sensitive information

Last week, DHS officials chastised Representative Jason Chaffetz (R-Utah) for disclosing sensitive security information to the press; in a letter, Joseph Maher, DHS's deputy counsel, scolded Chaffetz, the chair of the House Subcommittee on National Security, Homeland Defense, and Foreign Operations, for openly discussing "sensitive security information" provided by the Transportation Security Administration (TSA); the letter comes in response to Chaffetz's comments last week that revealed that there have been more than 25,000 security breaches at U.S. airports since November 2001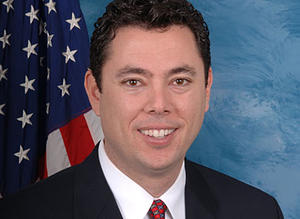 Utah congressman Jason Chaffetz // Source: advocate.com
Last week, DHS officials chastised Representative Jason Chaffetz (R – Utah) for disclosing sensitive security information to the press.
In a letter, Joseph Maher, DHS's deputy counsel, scolded Chaffetz, the chair of the House Subcommittee on National Security, Homeland Defense, and Foreign Operations, for openly discussing "sensitive security information" provided by the Transportation Security Administration(TSA). Maher wrote, "This document was marked as [Sensitive Security Information] and provided clear notice that unauthorized disclosures of the document violated federal law."
The letter comes in response to Chaffetz's comments last week that revealed that there have been more than 25,000 security breaches at U.S. airports since November 2001.
According to Maher, this information is "a topic of particular interest to our adversaries" and it was marked as sensitive to protect air travelers.
Representative Darell Issa (R – California), the chair of the House Oversight and Government Reform Committee, came to Chaffetz's aid and blasted DHS for sending the letter, calling it a "meritless" retaliation meant to cover up Chaffetz's attempts to address "TSA deficiencies."
Issa went on to call the letter a "threat to the entire legislative branch that this administration will seek retribution when non-classified information is shared with the public." He argued that the information that Chaffetz revealed was not classified information and that it was merely given a classified status to hide embarrassing information.
"The fact that the information in question was transmitted to the committee via an open e-mail over an open and non-secured network only underscores that this was not national security sensitive information," Issa wrote.
Issa now plans on investigating "how and why" Maher sent a letter to Chaffetz and is demanding that he produce all records documenting his decision to do so.