Power plants

New York State power plants showing their age

Published 10 January 2013

New York State could face power plant closings in the near future as a result of updated environmental regulations and the fact that plants in the state are outdated and inefficient; a recent report concluded that New York's coal and nuclear power plants, as well as steam and turbine plants that run on oil or gas, are on average older than others around the country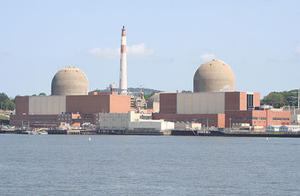 Indian Point // Source: clzg.cn
New York State could face power plant closings in the near future as a result of updated environmental regulations and the fact that plants in the state are outdated and inefficient.
A report published by SNL Energy concluded that New York's coal and nuclear power plants, as well as steam and turbine plants that run on oil or gas, are on average older than others around the country.
The Times Union reports that according to the report, New York's power plants are 45-year of age on average, compared to 37-years average age for power plants in the rest of the nation. New York's power fleet is 36-year old on average, compared to thirty-two years nationally. This is important because federal nuclear licenses last forty years. In some cases, an extension of up to twenty years can be granted.
The Indian Point nuclear power plant in Westchester County is one of the plants that could be closed, even though it supplies a significant portion of New York City's energy needs.
In recent years state regulators have kept a close eye on the state's aging electricity infrastructure to make sure there is enough power generated to meet the demand of the electrical grid, interconnection of power plants, and the high voltage transmission lines that feed local utility distribution lines serving homes and businesses.
Governor Andrew Cuomo's administration has created the Energy Highway Blueprint, a new initiative to ensure the state has reliable electrical service in the future. The Blueprint calls for $5.7 billion investment in projects which will add 3,200 megawatts of supply to the electrical grid. This addition will more than compensate for the closing of Indian Point.
The state Public Service Commission, which regulates power plants and utilities, is also creating a contingency plan in the event that Indian Point closes.
Plants which are shut down because of age can be rebuilt, scrapped, or refurbished with new equipment to continue to produce energy, but according to the SNL report, federal environmental rules, which target coal plants more than nuclear plants, are forcing some plants into retirement as new technologies make plants less profitable.
Natural gas, produced from hydraulic fracturing in states such as Pennsylvania and Ohio, have made coal and oil burning plants less popular among power plant owners in recent years.
The New York State Independent System Operator, which oversees the state's high-voltage transmission system, reports there are roughly 4,000 megawatts of new proposed projects in New York State. That includes a 1,000 megawatt Cricket Valley Energy Center in Dutchess County.
General Electric (GE) which makes steam turbines and generators in upstate New York, could benefit from the rebuilding of the state's infrastructure.
GE is currently involved in the Cricket Valley project and has created a new combined cycle technology which will reduce plant emissions as well as save fuel and better integrate the electrical grid with wind farms.
GE spokeswoman Chris Horne says the company is helping extend the life of nuclear plants if they get license extensions. He said that power plant owners have been planning for the new federal emissions guidelines for years, and many have already upgraded their systems in order to be compliant.
"In other cases, the economics for upgrades don't make as much sense and a plant may be retired," Horne told the Times Union. "Those market opportunities are certainly on GE's radar screen and we have been successful in capitalizing on them."