Personal protection gear

Mexico violence boon to security garment industry

The deteriorating security situation in Mexico is a boon to the security industry; the Ninth Expo-Seguridad in Mexico City saw many companies offering bullet-proof garments — vests, scarves, shirts, and underwear — that protect against attacks with sharp objects; also on display was the more traditional personal protection gear such as helmets, gloves, goggles, and bullet-proof vests able to stop rounds from AK-47 and AR-15 assault rifles; one star of the show was Colombian businessman Miguel Caballero who is known for the bullet-proof jackets and vests he has produced for politicians, businessmen, and former presidents from across Latin America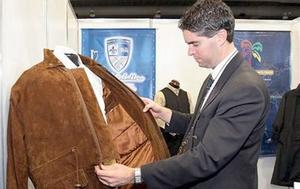 Miguel Caballero and one of his designs // Source: luxurylaunches.com
The war among the drug cartels, and between the cartels and the government, has made large parts of Mexico ungovernable (and thanks to the same lethal combination of drugs and weapons, according to this week's Economist, the other countries in Central America are following Mexico in descending into chaos).
The wide-spread violence has been a boom to the security industry – not least the security garment industry. Bullet-proof vests, garments that protect against knife attacks, anti-theft systems, and armored vehicles were among the products on display at the Ninth Expo-Seguridad in Mexico City.
Expo-Seguridad, the largest security fair in Latin America, featured more than 300 exhibitors from eighteen countries.
Fox News Latino reports that Mexico's Bullet (company's motto: "Protegiendo a quien protégé"), one of the exhibitors, specializes in selling gear for military and police use, such as helmets, gloves, goggles, and bullet-proof vests able to stop rounds from AK-47 and AR-15 assault rifles.
The firm also sells scarves, shirts, and underwear that protect against attacks with sharp objects and "are ideal for preventing injuries," Bullet executive Erick Sanchez said.
These garments "can be utilized without a problem along with a bullet-proof vest" by any member of the security forces, Sanchez said.
Among the other exhibitors is Colombian businessman Miguel Caballero, who is known for the bullet-proof jackets and vests he has produced for politicians, businessmen, and former presidents from across Latin America.
Fox News Latino notes that Mexico, where a drug-related wave of violence has claimed the lives of more than 36,000 people, is an ideal market for security products.
Officials have been forced to provide better equipment to the police officers and soldiers fighting drug traffickers, kidnappers and extortionists in Mexico's streets.
Expo-Seguridad is also offering seminars with public and private security experts, as well as discussions of such topics as intelligence and the wars of the future.