In the trenches

Northrop shows big-gun armed robot

Published 29 October 2010

Northrop took its Carry-all Mechanized Equipment Landrover, or CaMEL — a 60-inch-tall treaded vehicle capable of carrying an impressive 1,200 pounds of stuff — and put a massive .50 caliber M2 machine gun on it; Israel has already ordered 60 of them, and the U.S. Army is considering (after an unpleasant experience with an earlier armed robot in Iraq two years ago)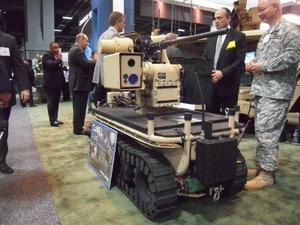 Northrop's CaMEL with .50 caliber M2 machine gun // Source: wired.com
Northrop's heavy-duty hauler CaMEL, has been a success, winning contracts from Israel and serious interest from the U.S. Army. Why haul just any kind of stuff, though, when you can haul a giant gun instead?
The hauler is named the Carry-all Mechanized Equipment Landrover — or CaMEL — is a 60-inch-tall treaded vehicle capable of carrying an impressive 1,200 pounds of stuff, and its usefulness in the field is proven by its popularity. Israel has bought more than sixty of them, and the U.S. Army is looking into its possibilities as well. Spencer Ackerman writes that Northrop, with no particular urging from the market, has decided that the CaMEL would be much more appealing with a massive .50 caliber M2 machine gun mounted on top. It is controlled remotely by a touch screen, just like its less violent hauling brother, and actually uses a hybrid engine ("Just like a Toyota Prius," says Northrop).
Shown off at an Army conference, the gun-toting CaMEL was not built to specifications for any organization. Dan Nosowitz writes that back in October of 2009, the Army pulled the after one of the robots behaved in an unsafe manner (see "Armed robots pulled out of Iraq," 11 April 2008 HSNW). Nobody was hurt, but it has made the U.S. Army skittish about adopting these kinds of machines. Northrop mostly built the armed CaMEL to attract visitors to their booth, and probably for fun as well, "but it might have the result of gently encouraging the Army to take a second look at armed 'bots," Nosowitz writes.