Texas to pass tougher immigration laws
Texas is the latest state to join the ranks of state legislatures across the United States seeking to pass tougher immigration laws; the proposed bill is less strict than the many Arizona-style laws that are making its way through other states, but critics say that the bill will encourage racial profiling, take valuable resources from critical police work, and give rogue agents free reign to harass immigrants; supporters disagree as the bill eschews the more controversial provisions of the Arizona law by not requiring police officers to inquire about immigration status; the bill would also eliminate "sanctuary cities" and allow officers to maintain records and help federal authorities enforce immigration laws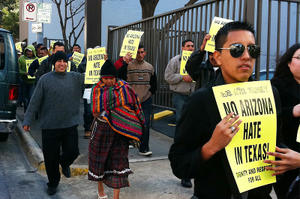 Protest of Texas' proposed legislation // Source: occidentaldissent.com
Texas is the latest state to join the ranks of state legislatures across the United States seeking to pass tougher immigration laws.
On Wednesday 2 March, a Texas House committee held hearings on recently introduced legislation that would increase immigration enforcement efforts in Texas.
The bill is less strict than the many Arizona-style laws that are making its way through other states, but it is still generating heavy criticism. Its critics say that it will encourage racial profiling, take valuable resources from critical police work, and give rogue agents free reign to harass immigrants.
Supporters disagree, citing the fact that the proposed legislation, House Bill 12 (HB 12), eschews the more controversial provisions of the Arizona law, which have been struck down by a federal judge, by not requiring police officers to inquire about immigration status.
Republican Representative Burt Solomons, the bill's author, said this bill will establish a "uniform consistent policy" on immigration across the state by prohibiting "sanctuary cities," areas that have adopted local laws that do not require police to enforce immigration laws or cooperate with federal authorities.
The law would prohibit local law enforcement agencies and other jurisdictions from adopting policies that would prohibit them from enforcing immigration laws.
Representative Solomons is careful to note that, "There's nothing in this bill that requires a police officer to ask one question that they don't think they need to ask. We're not mandating anything."
Instead the bill would allow officers to inquire about immigration status, maintain records, and help federal authorities enforce immigration laws.
HB 12 is a compromise bill and is less stringent than other proposals which include language similar to the Arizona law. Texas Governor Rick Perry has fast tracked the bill and is working with Solomons to get it passed.
Immigration is one of Perry's top priorities and was strongly emphasized during his 2010 re-election campaign.
Legislators are also debating several other immigration legislation including one that would establish English as the official language of the state and one that would create a database of illegal immigrants arrested in Texas.
In arguing against HB 12, Democratic Representative Sylvester Turner said the bill would give officers the ability to defy their superiors and prioritize immigration enforcement over other law enforcement duties.
"This officer … is given the authority to say to the police chief, to the mayor, to the City Council: I don't care how much time it takes, you can't stop me from doing this," Turner said.
Turner is also concerned that the bill would turn local police forces, including those on college campuses and school districts, into immigration enforcement officers.
Austin Police Chief Art Acevedo backed Turner's criticism stating that the bill is unnecessary as local police already help federal officials detain and deport illegal immigrants.
He said, "We are leading through emotion and politics instead of good public policy."
The National Conference of State Legislatures found that in 2010 state legislatures passed a record number of immigration laws and resolutions and advocates hope that 2011 will see even more laws passed.