The water we drink

After EPA fine, mining company building $200 million water treatment plant

America's largest underground coal mining company, Consol Energy, is constructing a $200 million water treatment plant in West Virginia, after being fined $5.5 million by the Environmental Protection Agency (EPA); in 2009 discharge from Consol's mining operation caused a toxic golden algae bloom that killed aquatic life along thirty miles of Dunkard Creek; the advanced waste water treatment plant will be the largest facility in Appalachia; the plant will be capable of treating 3,500 gallons of water per minute and will remove more than forty-three tons of dissolved solids, including eleven million pounds of chloride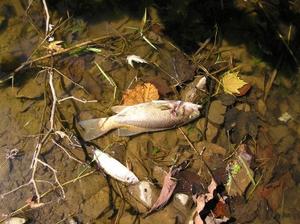 Fish kill at Dunkard Creek, WV // Source: wvgazette.com
America's largest underground coal mining company, Consol Energy, is constructing a $200 million water treatment plant in West Virginia, after being fined $5.5 million by the Environmental Protection Agency (EPA).
In 2009 discharge from Consol's mining operation caused a toxic golden algae bloom that killed aquatic life along thirty miles of Dunkard Creek. Water containing high concentrations of chloride and other dissolved solids from mining waste water created conditions that allowed the algae to grow out of control. In response to the algae bloom, the EPA and the Department of justice fined the company for violating the Clean Water Act hundreds of times over the past four years and required Consol to treat its waste water before discharging it into nearby streams.
The advanced waste water treatment plant will be the largest facility in Appalachia and will remove large amounts of chloride and other corrosive chemicals from wastewater from mining operations.
The plant will be capable of treating 3,500 gallons of water per minute and eliminate at least 95 percent of all pollutants from the water. In particular, the plant would prevent more than forty-three tons of dissolved solids, including eleven million pounds of chloride from entering streams and waterways.
Randy Huffman, the secretary of the West Virginia Department of Environmental Protection, said, "Mining is critical to our state's economy, but clean water is paramount. This agreement supports both."
The plant will process water from four mines in West Virginia: Blacksville No. 2, Loveridge, Robinson Run, and Four States mines.
The facility is expected to be operational by 2013.
Consol produces thirty million tons of coal in West Virginia each year.