Mexico war

Car-based IED attacks an emerging threat in Mexico

Intelligence analysts worry that Mexican drug cartels will increasingly turn to deadly car bombs in the escalating drug wars; drug cartels have already assassinated several government officials using improvised explosive devices (IEDs) planted in cars; in Mexico IEDs are easy to construct due to easy access to powerful commercial explosives that are widely used in the country's mining and petroleum industry; due to strict gun laws, it is actually cheaper and easier to obtain explosives than guns; to defend against this emerging threat the U.S. consulate in Monterrey erected concrete barriers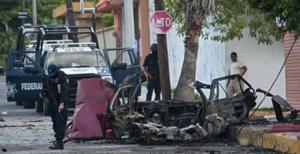 Vehicle-borne IED detonated in Ciudad Victoria // Source: stratfor.com
Intelligence analysts worry that Mexican drug cartels will increasingly turn to deadly car bombs in the escalating drug wars.
The cartels have already demonstrated their ability to successfully plan and carryout such attacks on multiple occasions.
The cartels began deploying such techniques in 2008 and have assassinated several government officials using improvised explosive devices (IEDs) planted in cars. Of particular note was a May 2008 IED attack which killed Edgar Millan Gomez, who was at the time Mexico's highest ranking federal law enforcement official.
In Mexico IEDs are easy to construct thanks to easy access to powerful commercial explosives that are widely used in the country's mining and petroleum industry. Due to strict gun laws, it is actually cheaper and easier to obtain explosives than guns.
Mexican law enforcement officials often find large quantities of explosives when raiding cartel weapon caches. On 1 April Mexican military forces unearthed a large cartel arms depot in Matamoros and discovered 412 plastic sleeves of hydrogel commercial explosives, thirty-six electric detonators, and nearly forty feet of detonation chord.
Despite easy access to explosives, cartels did not frequently turn cars into dangerous weapons with remotely detonated IEDs until July 2010.
On 15 July 2010, in Juarez, Chihuahua, the Juarez cartel killed four law enforcement agents and injured nine other first responders after it remotely detonated an IED inside a car. The cartel had lured the agents to the vehicle by reporting it contained a dead body.
Other cartels took notice and also began employing the technique. Following the car bomb in Juarez, the Gulf cartel launched six IED attacks from August to December 2010.
More recently on 22 January an IED was detonated in a car in Tula, Hidalgo as police officers responded to a tip that the vehicle had a body inside it. When agents opened the car door, the bomb exploded injuring four officers.
Despite the dangers that car based IEDs pose, Scott Stewart, an intelligence analyst with Stratfor, does not believe that civilians and government facilities should worry too much.
In a recent article in Right Side News, Scott argued that the cartels have primarily used IEDs to send warning messages and it is not in their best interest to conduct larger attacks that kill civilians or target government facilities as it would anger civilians and cause an even tougher government crackdown.
Scott writes, "It is one thing to target members of opposing cartels, or even law enforcement and military personnel, and it is quite another to begin to indiscriminately target civilians or to level entire city blocks with large VBIEDs [vehicle based IED]. While the drug war…has affected many ordinary Mexicans and turned sentiment against the cartels, public sentiment would be dramatically altered by the adoption of true terrorist tactics. So far, the Mexican cartels have been very careful not to cross that line."
He adds, "There is also considerable doubt that a larger IED attack would really accomplish anything concrete for the cartels. While the cartels will sometimes conduct very violent actions, most of those actions are quite pragmatic."
Despite Scott's reassurances, U.S. facilities in Mexico have taken careful precautions to defend against this emerging threat.
On 5 April the U.S. consulate in Monterrey, Mexico erected concrete barriers outside to minimize traffic approaching government buildings and to prevent cars from parking too close.