Border security

CBP buys upgraded aircraft for border patrol

U.S. Customs and Border Protection (CBP) purchased its new King Air 350, twin engine Multi-role Enforcement Aircraft (MEA), bolstering DHS's capabilities of patrolling the skies along U.S. borders; designed to be a truly multi-role aircraft, the MEA is equipped with a sophisticated array of active and passive sensors, technical collection equipment, and satellite communications capabilities that can be deployed for ground interdiction operations, air-to-air intercept operations, and medium-range maritime patrols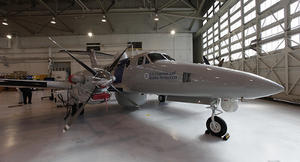 Designed for a broad spectrum of mission types // Source: customs.gov
U.S. Customs and Border Protection (CBP) announced its new King Air 350, twin engine Multi-role Enforcement Aircraft (MEA), bolstering DHS's capabilities of patrolling the skies along U.S. borders.
Designed to be a truly multi-role aircraft, the MEA is equipped with a sophisticated array of active and passive sensors, technical collection equipment, and satellite communications capabilities that can be deployed for ground interdiction operations, air-to-air intercept operations, and medium-range maritime patrols.
The aircraft is operated by a crew of four, including two sensor operators who employ the mission equipment and coordinate the information flow to the ground. It can cruise at 270 knots with a maximum ceiling of thirty-five thousand feet, and can be reconfigured to carry special mission teams or a modest amount of cargo.
The first MEA will deploy to the southwest border in mid-June 2011 to undergo initial test and evaluation and to conduct missions aiming to enhance ground tactics and enforcement coordination.
The CBP design incorporates a wide-area marine search radar with air search capability and a ground moving target indicator. The nose of the aircraft was extended to provide a wide field of view for its high-resolution, electro-optical/infrared sensor (day/night camera). The aircraft can send targeting information through Ku-Band satellite communications, and it employs the latest data processing software capable of handling hundreds of targets simultaneously.
The CBP MEA was acquired by the Office of Air and Marine as a component of what CBP describes as "its decade-long aircraft recapitalization program," and was purchased to replace three types of aged, less capable and unsupportable twin engine patrol aircraft that were originally obtained through loans from the DoD. It is considered an "operator's aircraft" in that CBP's Air and Marine pilots and sensor operators actively participated in every aspect of the acquisition.
CBP holds a contract for thirty MEAs with Sierra Nevada Corp., with a requirement for up to fifty of the aircraft. The basic aircraft is built by Hawker Beechcraft Corp and sent to the Sierra Nevada factory in Hagerstown, Maryland, where it is modified and all of the missions systems are installed and integrated.
The MEA is capable of flying six-hour missions over the land or maritime borders, and can also be deployed to "hot spots" where multi-sensor patrols assist both ground and marine agents in apprehending smugglers and potential terrorists. The MEA will be a highly effective addition to CBP in the Gulf of Mexico, Eastern Pacific, Great Lakes region, and other coastal approaches to the country.