Cruise ships may be required to hand over passenger reservation data
Security experts worry about a waterside attack using a waterborne improvised explosive device; such an attack could conceivably come while the ship was in transit or docked at port; to address this worry, DHS will require cruise ships departing and entering the United States to provide Customs and Border Protection (CBP) with passenger reservation data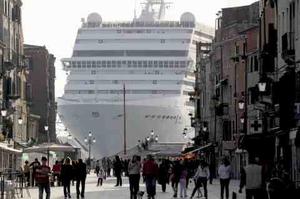 Cruise ship docked in Venice, Italy // Source: nytimes.com
Cruise ships departing and entering the United States may be required in the future to provide Customs and Border Protection (CBP) with passenger reservation data because of terrorism concerns, according to a recent Government Accountability Office (GAO) report.
Matthew Harwood writes that in a recent report on cruise ship security, the GAO recommended that CBP study the cost and security benefits of requiring the cruise ship industry to provide automated Passenger Name Record (PNR) data to the agency for passenger screening purposes. DHS, the CBP's parent organization, agreed and responded that the agency would conduct the study and determine whether the program should be implemented.
Harwood notes that the idea is to bring the same attention to detail to screening cruise-ship passengers that already exists for airline passengers. International airlines are already required to submit PNR information to the CBP as part of its mission to prevent terrorists and their weapons from entering the United States.
Currently, cruise ships departing or entering the United States only submit passenger manifests for CBP to check against terrorist watch-lists and the National Crime Information Center database.
CBP officials told GAO investigators that PNR data provides a fuller picture for better targeting of high-risk passengers, including those with suspected terrorist ties. "[PNR] data may include, among other things, a passenger's full itinerary, reservation booking date, phone number, and billing information, which is not usually available in the manifest data," reports the GAO.
A representative from the Cruise Lines International Association told GAO investigators that the industry would comply with the program if CBP required them to do so, although the representative did not know if such a rule would hurt reservation rates. In 2008, 9.3 million passengers departed the United States on board cruise ships, according to the Department of Transportation's Maritime Administration.
Officials across DHS believe cruise ships could be a terrorist target, but a recent intelligence report from the U.S. military's National Maritime Intelligence Center (NMIC) in January found no credible terrorist threat to cruise ships existed in 2009.
Nevertheless, the NMIC pointed to the 1985 terrorist hijacking of the Achille Lauro cruise ship by four terrorists from the Palestinian Liberation Front as evidence that terrorists could target these vessels. After the four terrorists took control of the cruise ship off of Egypt, they executed Leon Klinghoffer — a 69-year-old, wheelchair-bound American Jew — and dumped his body and wheelchair into the sea.
Harwood writes that the big fear for homeland security officials has nothing to with terrorists finding their way on board a cruise ship though. What they dread most is a waterside attack using a waterborne improvised explosive device. Such an attack could conceivably come while the ship was in transit or docked at port. In 2000, two al Qaeda members rammed the U.S.S. Cole in the port of Aden with a explosive-packed 35-foot-long boat, killing themselves and seventeen sailors.
Cruise ships, however, are considered strong, resilient vessels, reports the GAO. "Coast Guard officials stated that cruise ships are built to sustain various types of attack scenarios and keep passengers safe until they are able to be rescued, and that a very large hole in the hull would have to occur to cause any significant damage to the ship."