In the trenches

DARPA: Break-up of hypersonic airplane/missile no big deal

Published 19 November 2010

DARPA first test of its hypersonic airplane/missile — Falcon HTV-2 — failed after the prototype broke up on re-entering the atmosphere; after investigating the causes of the accident, the agency said it is ready for another test; the HTV-2 unmanned test vehicle had no propulsion of its own, being intended rather to try out new airframe and control technologies for use in hypersonic weapons or aircraft of the future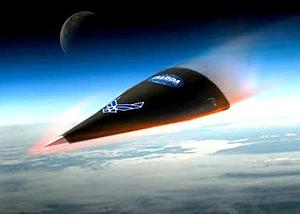 Artist's rendering of the HTV-2 in flight // Source: smh.com.au
DARPA researchers say they now understand why their hypersonic aeroplane/missile prototype, the Falcon HTV-2, cracked up in flight above the Pacific in April — and say they are on course for another trial flight next year.
The HTV-2 was fired out of the Earth's atmosphere atop a Minotaur IV Lite booster rocket stack from the U.S. military's Vandenberg space base in California. The HTV-2 unmanned test vehicle had no propulsion of its own, being intended rather to try out new airframe and control technologies for use in hypersonic weapons or aircraft of the future.
It had been intended that the HTV-2 would then re-enter the atmosphere and make a hypersonic glide under autonomous control to splash down in the vicinity of Kwajalein Atoll, nearly 5,000 miles from the Californian launch site. During the flight, Pentagon engineers from DARPA would learn whether the new hypersonic technology — intended to be a major leap forward from that used in existing airframes like that of the space shuttle — worked as expected.
Lewis Page writes that in the event, communications with the HTV-2 were lost shortly after it entered the upper atmosphere as the ambitious craft broke up. Since then, an independent review board of experts, not drawn from the team which designed the Falcon, have been analyzing telemetry from the doomed hypercraft.
According to a DARPA statement released this week:
Detailed analysis conducted by the [review board] revealed that the most probable cause of the HTV-2 flight anomaly was higher-than-predicted yaw, which coupled into roll thus exceeding the available control capability at the time of the anomaly. The analysis concluded that knowledge of several key aerodynamic parameters in this flight regime was limited.
HTV project chiefs say this means that relatively minor adjustments should make the next Falcon re-entry into the atmosphere successful. According to David Neyland, one of the program managers: "The conclusions of the ERB indicate that no major changes to the vehicle or software are required to mitigate the first flight anomaly. Engineers will adjust the vehicle's center of gravity, decrease the angle of attack flown and use the onboard reaction control system to augment the vehicle flaps when HTV-2 flies next summer."
Page notes that even if DARPA's carbon-carbon airframe and new flight regime can be made to work, we may be waiting a while for the reusable space planes — there has been trouble with the engine project as well.