Search and rescue

Grant helps Kentucky dive team operate without sight

Published 13 December 2011

Rescue and recovery divers often struggle to perform their duties in murky, muddy waters, but thanks to a $21,000 grant from Kentucky's Homeland Security department, the city of Grayson was able to purchase a side-scan sonar and an underwater metal detector to help rescue divers complete their mission in low visibility conditions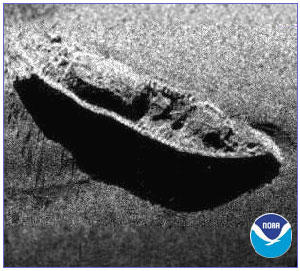 Side-scan sonar located the Civil War's USS Monitor // Source: noaa.gov
A local search and rescue dive team in Kentucky recently obtained sophisticated equipment to help the team overcome critical challenges.
Rescue and recovery divers often struggle to perform their duties in murky, muddy waters, but thanks to a $21,000 grant from Kentucky's Homeland Security department, the city of Grayson was able to purchase a side-scan sonar and an underwater metal detector to help divers complete their mission in low visibility conditions.
Kyle Morgan, the head of the Grayson Rescue and Recovery Dive Team, explained that when used in conjunction, the side-scan sonar and the underwater metal detector can help divers get a clear "picture" of their underwater environment even in murky waters.
The two instruments can locate submerged objects that include drowning victims and sunken vehicles, reducing the need to conduct blind searches and minimizing the time and number of divers needed for an operation. The metal detector is sensitive enough to even pinpoint an individual's personal belongings like keys, rings, watches, or guns.
"The need is great for a dive team with the necessary equipment to successfully fill a gap in this part of the state for water related emergencies. These two pieces of technology will enhance the team's ability to serve those in need and raise the team's performance, enabling them to better fulfill their water incident missions," Morgan said.
The Grayson dive team was formed last year and serves the eastern part of Kentucky, which only has two other dive teams located nearby.
Since the team's inception, they have struggled with the funding needed to purchase critical equipment, so team members have turned to collecting and selling scrap metal to raise money. In addition, the team received more than $11,000 from Grayson's Emergency Management Agency to purchase dry suits for the team.
The Grayson dive team consists of thirteen members, primarily firefighters that have undergone advanced underwater training and certification.