Security business

Mexico , the next private contracting boom?

Published 1 February 2012

As military spending winds down in Iraq and Afghanistan, security contractors eying lucrative opportunities are looking towards Mexico, but strict gun laws and a turbulent environment greatly complicate things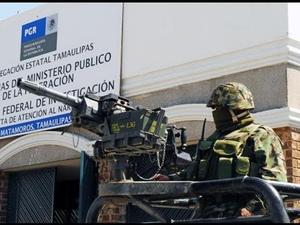 Private contractors are used in training Mexico's military // Source: mediajunkey.com
As military spending winds down in Iraq and Afghanistan, security contractors eying lucrative opportunities are looking towards Mexico, but strict gun laws and a turbulent environment greatly complicate things.
Mexico's violent drug wars have created many prospects for security contractors to compete for both federal and private dollars. The Pentagon recently allocated more than $3 billion for contractors as part of its global counter-narco terrorism program, while the State Department has promised $2 million in aid to Mexico since 2008 to help the country battle cartels, much of it is available for contractors to provide services.
In addition the Mexican government along with private companies in Mexico have dramatically increased their spending on private contractors. Since 2006, the number of armed private security firms has doubled and the Mexican government has increased security spending from $1.7 billion in 2005 to more than $12 billion in 2011.
Even with these opportunities, spending will never come close to the amount U.S. companies saw in Iraq and Afghanistan where the U.S. government spent more than $200 billion on private contractors over the past decade.
To further complicate the contracting environment, Article 27 of Mexico's gun laws prohibit foreigners from carrying weapons.
According to Michael Braun, a partner with security firm Spectre Group International and a former DEA operations chief, as a result of this ban on weapons, many companies have written off working in Mexico.
"The Mexican government is not going to allow U.S. contractors to be armed in Mexico, and I can tell you that alone will cause many companies large and small to not even consider performing work there," Braun said. "The Mexican government and the Mexican people are extremely sensitive when it comes to these questions of sovereignty, and we need to respect that."
For security contractors operating in Mexico, hiring the right personnel is absolutely critical as they are unarmed.
"Everyone thinks if they worked in Iraq and Afghanistan they can work in Mexico, but it's a different ballgame," explained Rick Sweeney, the CEO of SECFOR, which provides personal security services to business executives in Mexico. "I'm not looking for the guys who come to me and say they're an expert shot or a black-belt. I'm looking for guys who can plan and stay out of trouble, rather than blast their way out of trouble once it starts."
Regardless of these challenges, security contracting in Mexico has continued to grow rapidly with a minimum rate of 20 percent annually due to foreign and local business executives seeking to safeguard their families and employees, said Robert Munks, an analyst with HIS-Jane's.
In addition, beyond personal security, an increasing number of former U.S. military personnel have travelled to Mexico to help train security forces there in counterinsurgency tactics, electronic surveillance, and other skills learned in Iraq and Afghanistan.